Dubai makes world's longest sandwich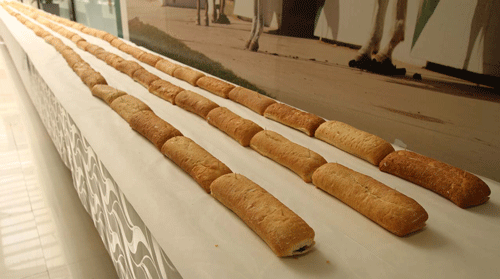 The record for the longest sandwich has been finally broken. Dubai on Thursday witnessed the making of a 2.667kms long sandwich that entered the Guinness Book of World Records.
The effort to make the world's longest sandwich started at 9am and was completed two hours ahead of schedule at 12noon, just in time for distributing the lunch packets to the employees of three labour camps.
Vishal Tikku, Managing Director, Saudi Arabia and Middle East Shared Services, Kraft Foods, told Emirates 24|7 that about 250 volunteers were involved in the effort. "There was a sort of competition between the 20 teams which enabled us to complete the task at 12, much before the 2pm deadline."
"But it all ended well. We managed to break the earlier record, made in Italy of a 2kms long sandwich," he added.
According to him, it took almost 600 jars of cream cheese spread weighing 550 kilos, 900 kilos of vegetables, 525 kilos of tomatoes, 265 kilos of cucumbers and more than 100 kilos of olives.
"In fact we ran out of olives as our volunteers were more than generous in adding the ingredient. Finally we had to order for additional quantity," he said.
This is second record-making initiative this year following a January 2009 effort by Kraft Foods Mexico that set a new world record with its brand Philadelphia Cream Cheese for the largest cheesecake spanning 56cm in thickness and 2.5 meters in diameter.
The event was held in partnership with UAE Red Crescent Society, Dubai Outlet Mall, and Advanced Baking Concept. "We had to lay three rows of tables across the mall to match the 2.7kms length," added Tikku.

Follow Emirates 24|7 on Google News.