Dubai road closure impact on Bur Dubai, Karama, Deira commute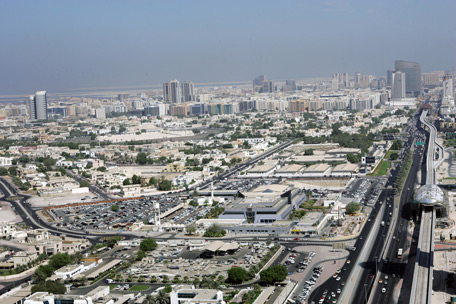 Even as motorists rejoice with the opening of the southbound Sheikh Zayed Road Interchange 2 bridge last month, another road closure has now been announced by the Roads and Transport Authority of Dubai (RTA), which could affect the daily commute for residents of Deira, Karama and Bur Dubai.
The RTA has now announced the closure of the Sheikh Rashid Road exit from Umm Hurair Road from today (August 1) and will remain cordoned off to traffic until February 2017.
Umm Hurair Road or D78 connects motorists exiting Al Maktoum Bridge towards Abu Dhabi, with a Sheikh Rashid Road exit that disperses traffic into Karama, Bur Dubai and Sheikh Zayed Road via Sana Junction.
The RTA has confirmed the exit will be closed in order to continue with its road improvements on Al Shindagha Traffic Hub intersection.
The road improvements are represented by constructing a one-lane bridge connecting Umm Hurair and Sheikh Rashid roads.
In a statement on its official Twitter account, the RTA further stated: "These road improvements aim to ensure the highest possible flow of traffic in the area.
"We thank road users on cooperating with us and we appeal everyone to pay attention and follow the guidance signs and alerts for alternative routes."
According to the RTA's map, an alternative track (shown in blue) that runs parallel to the original road will open to commuters bound for Sheikh Rashid Road.
In March of this year, the RTA had announced it had awarded a contract for constructing the Sheikh Rashid Road-Shaikh Khalifa bin Zayed Road Interchange Project, costing Dh611 million.
On its website, project consultants Parsons described Al Shindagha Corridor improvement project, "consisting of a new bridge – connecting Bur Dubai to Deira – that will serve as a gateway to Dubai."
The project will also include "an evaluation of an existing tunnel under the waterway, nearly 10km of a new 12 lane expressway, multiple major interchanges, and various local roadway improvements throughout the historic district of Dubai."
Construction and development company Wade Adams has listed the upcoming project's completion date as December 29, 2017.
According to hoardings erected in the community, several roadworks are to be centered at the crossing of Sheikh Rashid Road (coming from Al Garhoud Bridge towards Sana Junction), further heading northwards towards Al Shindagha area via Port Rashid junction.
Roadworks will also stretch from Sheikh Khalifa bin Zayed Road (SZR) or E11, heading towards the junction of Kuwait Street and Sheikh Khalifa bin Zayed Road (popularly known as Centrepoint Signal).
The project will include the construction of an elevated bridge on Shaikh Khalifa bin Zayed Road that would facilitate free flowing traffic and could alleviate jams in the Bur Dubai and Karama district from Al Mankhool area.
The RTA describes it as a "two-lane bridge on the intersection of Sheikh Khalifa bin Zayed Road with Kuwait Street, [with] a signalised junction underneath the bridge."
Furthermore, a tunnel will also find its way on Shaikh Rashid Road that could see free flowing traffic from Al Garhoud and Wafi Interchange towards Port Rashid junction, which would further lift the gridlock at Sana junction during peak hours for vehicles turning right into Al Karama.
In April of this year, the RTA opened the new Wafi Interchange linking Sheikh Rashid Road with Oud Metha Road as part of this project.
Follow Emirates 24|7 on Google News.