Dubai's Majid Al Futtaim hiring for Mall of Emirates, Ski Dubai, Vox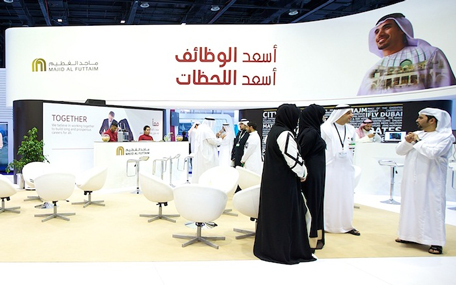 Majid Al Futtaim, Dubai-based retail, leisure and entertainment company, is looking to fill positions available across its different business units that span its properties, retail and entertainment divisions and incorporate brands such as Mall of the Emirates, Carrefour, Ski Dubai and VOX Cinemas.
These positions will be open to Emirati candidates during Careers UAE 2015 taking place at World Trade Centre in Dubai starting today and until the 30th of this month.
Human resource officials will hold initial interview meetings with candidates and likely shortlist the best for the jobs available at the venue.
According to reports, in 2014 the Carrefour brand employed 150 UAE nationals and had two Emiratis as general managers at these stores.
And this year too, the company has reaffirmed its commitment to employing more Emiratis across its businesses, with a raft of initiatives.
One such initiative is the six month Khutwa Programme aimed at career development of Emirati university graduates. Besides this, a management trainee programme helps in reserving positions for fresh Emirati graduates to enter a career development course designed to help develop future leaders.
With the UAE's growing economy and Expo 2020 Dubai in sight there is an increasing need for highly-skilled UAE national professionals.
However, according to experts, the country and the various sectors have yet to meet the targets, especially the private companies.
As per the figures from the Ministry of Labour, out of the 4.4 million workers in the private sector, 28,200 are Emiratis, which needs to go up substantially.
To push for Emiratisation, the UAE government has addressed the UAE national workforce requirements by investing heavily in education. In 2014, Dh9.8 billion, or 21 per cent, of the federal budget was invested in education, of which Dh6 billion was spent on improving general education and Dh3.8 billion was directed towards academic excellence programmes in local universities.
Follow Emirates 24|7 on Google News.