Dubai Traffic Alert: Diversion on Al Wasl Road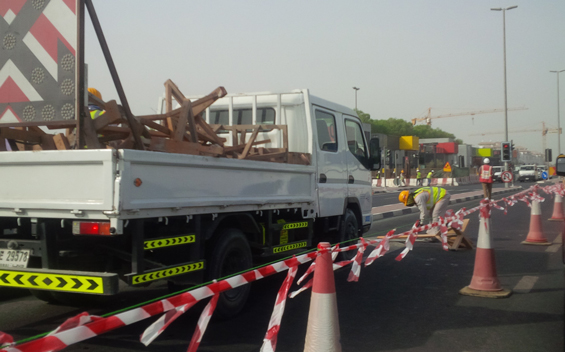 While morning commuters are heaving a sigh of relief as roads in Dubai appear largely congestion free with schools closing for the summer break, road diversion on Al Wasl Road is creating pockets of slow moving traffic on the busy stretch.
A barrier has been placed at one of the busy traffic lights on Al Wasl Road, blocking vehicles from taking the left turn at the Boxpark traffic light while heading southbound, forcing drivers to head straight and take a U-turn in front of the Eppco petrol station.
At 8.30am, a long queue of vehicles were seen lining up for the turn, while one commuter told 'Emirates 24|7', she was forced to drive further down to take a turn at Al Hadiqa cross section, with 15 minute delays cautioned.
While No reason was given for the diversion, the Dubai Canal works are ongoing with road diversions implemented last month for incoming traffic onto Al Wasl Road via Al Hadiqa Road.
Construction on the Dubai Water Canal Project has been split across three phases.
The first includes the construction of bridges across the canal on Sheikh Zayed Road, comprising eight lanes in each direction. The bridges will rise eight metres to allow free navigation of water transport vehicles in the canal.
The Dh2 billion Dubai Canal project will result in Sheikh Zayed Road eventually being elevated by a bridge to allow the extension of Dubai Canal to cross its way to the Arabian Gulf, while cutting across Meydan.
The second phase will see the construction of bridges across the canal, across three lanes on Jumeirah Beach Road and two lanes on Al Wasl Road in each direction.
Additionally, a flyover from Al Wasl Road, linking Al Hadiqa Street in the direction of Sheikh Zayed Road will also take form.
The third and final phase will see the actual construction of the 3.2 km-long canal, with the inclusion of a beach, a marina for boats and the water bus, along with three pedestrian bridges above the canal to link the Jumeirah Beach Walk with Safa Park Walk.
The project will extend Dubai Creek from Business Bay across Sheikh Zayed Road, through Safa Park and across the two main arteries in Jumeirah to reach the Arabian Gulf.
Follow Emirates 24|7 on Google News.