Dubai underwater theme park finalised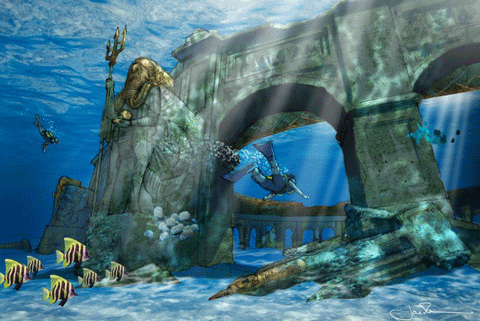 Reef Worlds, a Los Angeles-based underwater tourism design company, has submitted the final design for the world's largest sustainable underwater tourism site in Dubai, which will now have a Hamour Habitat, as well, 'Emirates 24|7' can reveal.
"The 'Pearl of Dubai' project is in final design phase with the client. We have submitted our last rendition of the proposed site and unique Hamour Habitat for their internal review and waiting on design approval," company CEO Patric Douglas told this website.
The Environment Agency Abu Dhabi had said earlier that Hammour is on the endangered list after been over-fished seven times the sustainable limit.
The company did not reveal the location of the project on The World, an artificial archipelago of over 300 islands, citing non-disclosure agreement signed in 2013/14.
Douglas said Nakheel, master developer of The World islands, has not approved the project and "will not until they see final design approved by our client".
There has been five draft revisions since the company first announced the project in 2014, the official said, emphasising the site has unique regional design influences and is a major habitat center for regional wildlife.
In 2014, Reef Worlds said the park will be modeled after Atlantis, the mythical lost city, and is inspired by Hollywood films 'Pirates of the Caribbean' and 'Avatar'.
Once opened, the company believes Pearl of Dubai will quickly become a focus for international dive/snorkel tourism and habitat creation in the region.
Asked when is work likely to commence, the CEO said: "As soon as client okays the final draft revision to design, and our marine science team finishes with habitat design."
He did not reveal the cost of the project, but stated: "You can infer from the size of the project (5 acres) as to cost."

Artist design for artificial reef temple issued by Reef Worlds in Feb. 2015. (Supplied)
In June 2015, 'Emirates 24|7' reported that Nakheel had given the go-ahead to develop 33 luxury floating islands, which are part of Oqyana World First, on The World.
Besides, Kleindienst Group, a Dubai-based real estate developer, is to build 42 underwater villas (the floating seahorse) in The Heart of Europe project on The World, while 8+8 Concept Studio, a Poland-based architecture firm, has unveiled plans for an underwater tennis complex in the emirate.
Follow Emirates 24|7 on Google News.