Expo 2020 Dubai plan: World's only 7-star airport terminal opens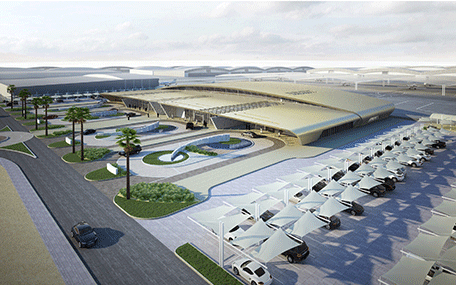 In what is being seen as a significant step towards realising Dubai's vision as the aviation capital of the world, a private jet carrying 13 passengers took off from the newly built VIP Terminal at Dubai South's Aviation District.
The launch marked the beginning of operations at the world's first 7-star facility dedicated to private aviation, and is part of the huge master-plan that is being developed in Dubai South, the future home for the Expo 2020 site.
In August last year, Dubai World Central, a 145 sq km master-planned city, was rebranded as 'Dubai South'.
Dubai South will be the site of the World Expo 2020, which is expected to attract 25 million visitors. Between October 2020 and April 2021, Dubai will host the next World Expo.
In November 2013, Dubai was voted winner of the World Expo 2020 bid at the 154th BIE General Assembly in Paris. The UAE received 116 votes out of a total of 165.
Bringing together more than 180 nations and an international audience of 25 million visitors, it will be one of the greatest shows on Earth.
"The flight is an important milestone for Dubai South and for Dubai's aviation industry as a whole. It brings into operation a truly beautiful facility that sets new benchmarks in terms of luxurious ambiance and excellent service," said Khalifa Al Zaffin, Executive Chairman of Dubai Aviation City Corporation (DACC).
"The stage is now set for robust growth in Dubai's luxury travel sector. I congratulate our partner JetEx and the entire team on the ground for so finely handling the VIP Terminal's first flight," he added.
Dubai's new aviation district is well equipped with world-class infrastructure and facilities to support business aviation, and the VIP Terminal will not only serve to bridge a definite gap in the market but will also redefine standards of success in the aviation industry, worldwide.
Situated in the Dubai South district, midway between Abu Dhabi and Dubai, the Expo 2020 site will be served by three international airports, as well as a world-class road network and a brand-new extension to the Dubai metro system.
Together these elements will ensure ease of access and maximum value to all those we look forward to hosting in 2020.
In October last year, Dubai South was named among the world's five mega infrastructure developments by the UK-based Knight Frank.
The first flight from the new terminal, an Embraer Legacy aircraft, headed to The Maldives, and was handled by JetEx, a Fixed Base Operator having a dedicated facility at the VIP terminal.
Operating 24 hours a day, 7 days a week, the 5,600 sq m standalone terminal will cater specifically to private, business and government VIP travellers.
The terminal will accommodate a number of FBOs that will each have its own dedicated lounge facilities on the landside allowing them to extend specialized services to their VIP guests.
Follow Emirates 24|7 on Google News.