Fog blankets Dubai; 9.8°C in Damsa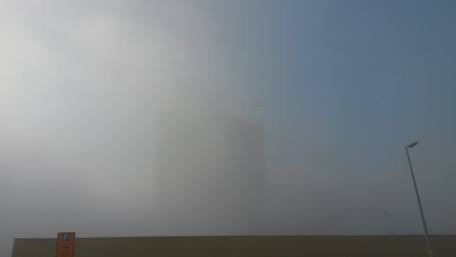 Update: NCMS tweets: The lowest temperature recorded in the country today morning was 9.8 °C in Damsa at 6.15am.
The National Centre of Meteorology and Seismology (NCMS) in the UAE warned of the possibility of fog formation by early Monday morning and motorists in Dubai were faced with a blanket of fog on their morning commute.
On Sunday the NCMS had already reported heavy fog in Abu Dhabi, Dubai near Al Maktoum Airport, Al Ain highway, Sharjah and Northern Emirates, with visibility dropping to 200 metres in parts.
(Viktoriya Miteva)
(Viktoriya Miteva)
(Viktoriya Miteva)
In Pictures: On a foggy morning in Dubai ... Click here
Sunday fog effect
Multiple road crashes are being reported heading southbound into Abu Dhabi, with partial highway closures in effect on Sheikh Zayed Road and Emirates Road, with emergency vehicles on site.

Congestion and minor fender benders are also being reported in different parts of the country, as dense fog descends onto the UAE, with Abu Dhabi Police and other authorities cautioning drivers about low visibility on the roads.

Dubai Police, meanwhile, confirmed an accident has been reported on Sheikh Zayed Road, located after the ninth bridge and before Emarat petrol station towards, heading in the direction of Abu Dhabi.

The crash, involving multiple vehicles according to eyewitnesses, is located near Ghantoot and resulting in heavy congestion after the Jebel Ali exit.

Others have also reported of another accident "almost near the same spot as the previously reported crash. Please take caution and drive safe. Poor visibility," tweeted one commuter.

Vaughan Sears also stated: "The accident Abu Dhabi bound in the fog after Jebel Ali sees road temporary closed."


Dubai Police, meanwhile, also reported on another crash saying: "An accident has been reported on Emirates Road exit towards Al Khawaneej Road."

It further added: "A vehicle has broken down near Maliha Road intersection on Emirates Road resulting in a road closure until the vehicle is shifted; please take alternative routes."

The crash has resulted in congestion and tailbacks on E611, heading in from Sharjah and Northern Emirates.

The capital is also facing its own traffic situation with Abu Dhabi Police reporting on "traffic congestion and delays on Sih Shuaib, inbound Abu Dhabi.:

It further added: "Low visibility due to fog formation on different parts in Abu Dhabi and highways. Motorists are urged to take extra caution."
Follow Emirates 24|7 on Google News.