For your eyes only: Reading glasses for just Dh275,250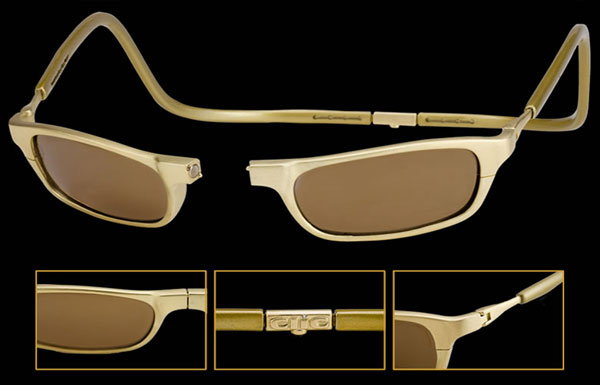 The price of gold may have been tamed in recent weeks, but this limited edition reading glasses (only 300 pieces are being made, each marked with a unique number and complete with a lifetime warranty) promise to hold their glitter for a long time.
This is no ordinary piece of eyewear – priced at Dh275,250 ($75,000), they are pegged as the world's most expensive reading glasses, and are set in 18K solid gold.
Manufactured by the CliC Golds, this unique piece of optical jewelry will be hosted by Al Jaber Optical at its store in Dubai Mall.
Created by talented inventor Ron Lando, who will also be present at the showing on May 7, from 6pm to 8pm, the CliC Golds are sure to captivate audiences with their sleek design set in 18K solid gold; a rare hybrid of artistic genius and precise optical engineering.
The glasses' inventor and worldwide patent holder for CliC eyewear, Lando worked with internationally renowned jewelry designer Hugh Power to bring this vision to life.
Each "reader" is hand crafted in 18K solid gold by the master jeweler in the United States using traditional, strictly detailed techniques. This means that every single piece takes approximately 50 hours to complete, with each set finished off with Lando's patented magnetic front connection system.
This system replaces the traditional temple and is an ultra-light moldable gold headband with 18K solid gold extendable sidepieces and an 18K solid gold expandable back made to ensure a custom fit. The glasses retail at $75,000 or approximately Dh275,250.
Al Jaber Optical, who are presenting the CliC Golds to the public, are no strangers to innovation, and have a long-standing reputation as leaders in the region's optical market.
"We are overjoyed to host such an exclusive piece of optical jewelry at our Dubai Mall store and it is an honour to have Mr. Lando and Mr. Power at the store to show off their creation to our customers. We always strive towards the new and exciting at Al Jaber Optical, and the CliC Golds are definitely that," said Ahmed Al Jaber, Managing Director, Al Jaber Optical.
Follow Emirates 24|7 on Google News.