Francis on trolley... still needs your help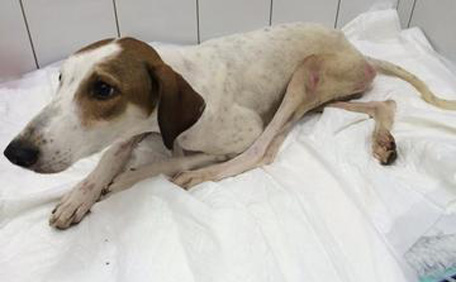 Francis the puppy has found a new home, as the person who found him has decided to make him part of her dog-friendly family.

Francis made the news last week after he was found on the street, heavily abused by an unknown person.

Read: 'I am Francis. And I am still alive…'

He was found with multiple injuries, including eat stroke, crushed spine, roken leg, and open wounds and deep gashes all over his body.

Francis has been undergoing a rehabilitation programme and has just been reunited with his rescuer, Michelle, says rehabilitation centre Dogwalk.

Life has not returned to normal for the pup, though.

Unable to stand on his rear feet, he is attached to a trolley to be able to move, and he wear diapers, says Evelyn, owner of UAE Pet Awareness, the organisation that told the story about Francis.

Moreover, Francis will need another surgery to have the pins in his body removed.

A puppy having lived his early life on the streets of Fujairah, Francis was almost dead when Michelle found him, two weeks after the abuse encounter.

He had been lying in the sun, unable to move and unnoticed my many passers-by.

Michelle is very active in saving animals in Fujairah and already has several dogs at her home, but could not leave young Francis out the door.

She adopted him and named him after her family name.

"We are in need of donations, because Francis will need dog pads and baby wet wipes for a while," said Evelyn.

"We do not require cash donations, but donations of these actual items." (See UAE Pet Awareness Facebook page for details on diaper size and how to contribute).

UAE Pet Awareness aims to raise awareness about the prevalence of animal abuse in the country.

Evelyn is worried about the animal abuse. "The amount of animals abused and dumped is worrying high right now and Francis has been abused in a matchless and unlimited way.

"We have to make people aware that culprits of cases like these live in the same communities as we do.

"Furthermore, many people passed this heavily injured dog, but simply did not help him! This is a clear sign of ignorance of an entire community and should worry us equally," she said earlier.

Follow Emirates 24|7 on Google News.