How many commute from Dubai to Abu Dhabi daily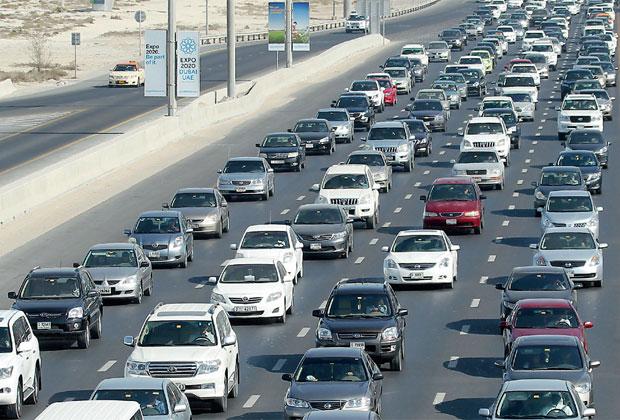 If the daily commute between Abu Dhabi and Dubai has you frustrated over the growing traffic gridlock, respite will soon be on the plan.
The capital's Department of Transport has announced the completion of a road transport study that will work towards implementing a more streamlined road infrastructure and reduce bottlenecks and daily jams at peak hours.
According to recent statistics issued by the Department of Transport in the capital, the daily traffic rate last December averaged 4,000 vehicles that shuttle between the two cities on the highway on weekdays.
The peak time when commuters would encounter this traffic is between 7am and 5pm.
However, the average number of vehicles passing every weekday on the highway between Al Ain and Abu Dhabi is bumped by another 2,000 vehicles to average 6,000 during the early hours of the morning.
Meanwhile, in Abu Dhabi City, the average daily traffic during weekdays in both directions of Mussafah Bridge surpassed 90,000 vehicles.
The DoT in Abu Dhabi released its findings as part of the completion of its Traffic Counting System (TCS) project, which was implemented by the Traffic Management and Technology (TMT) Division at the Traffic Management Center (TMC).
The Dh9 million project deployed more than 190 advanced traffic count stations across all main roads in the cities of Abu Dhabi and Al Ain, and the Western Region (Al Gharbia) to provide raw traffic data such as the average vehicles' volume, size, speed and classification, in addition to creating a central traffic database for the whole emirate.
This collected data contributes to realising the emirate strategy for Intelligent Transport Systems (ITS).
It also provides the necessary information for the DoT's activities that help in the design, planning and management of main roads, in line with Abu Dhabi vision 2030 and the Surface Transport Master Plan (STMP).
Eventually, this will lead to the establishment of an integrated and sustainable infrastructure for the transport network.
This data collected will be analysed by transport specialists to help the DoT in counting commuting time and managing traffic and accidents.
Follow Emirates 24|7 on Google News.