I believe in youth capacities to build a better future: Mohammed bin Rashid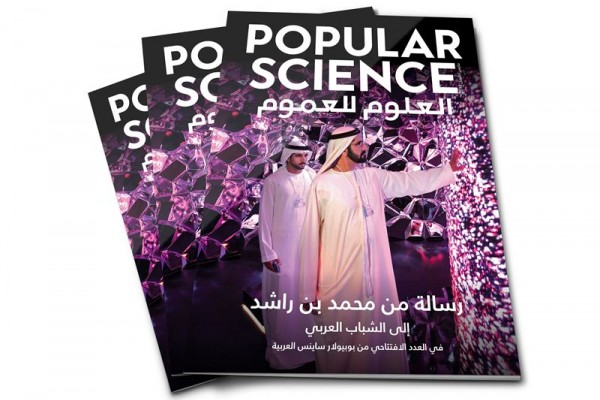 Vice President, Prime Minister and Ruler of Dubai, His Highness Sheikh Mohammed bin Rashid Al Maktoum, has urged Arab youth to evolve, adapt and learn to keep pace with a transforming world.
In an open letter to the Arab Youth in the inaugural issue of Popular Science Arabia Magazine, he said, "We live in a time of rapid changes, monumental achievements, and profound knowledge and discoveries.
It is imperative that we evolve, adapt, and learn at the same pace as our world is transforming. Above all, we must learn in our own language and within our own culture."
He underlined that the Arabic language is capable to absorb and adapt to the modern sciences and discoveries, and can go even further to create superior technical terms that better represent modern inventions and developments.
"Our Arabic language has always been one of learning and science; it will not fail to absorb and adapt to the sciences and discoveries of our day.
It can go even further to create superior technical terms that better represent modern inventions and developments.
With that in mind, we have no second thoughts whatsoever in supporting the launch of the Arabic edition of Popular Science magazine – the most prominent scientific publication in the world," Sheikh Mohammed bin Rashid said.
I have great faith in the people of this region, and I am confident that with their skills and aptitudes, our culture will thrive, embrace the knowledge revolution sweeping across the globe and contribute to it in all scientific disciplines, he added.
While praising the magazine he said, it is a first step that will undoubtedly be followed by further measures and initiatives from figureheads, decision makers, stakeholders, and anyone with an interest in the knowledge and scientific ambitions of our region.
"My message to the people of this region is not to wait but to seize the initiative.
Waiting can come with a hefty price tag of wasted time and missed opportunities.
The time is ripe for scientific discoveries – seize the day and aspire to create new opportunities for knowledge and invention.
Our ancestors built one of the most prominent civilisations in history: our youth are more than capable of restoring and advancing our cultural eminence," Sheikh Mohammed said.
Follow Emirates 24|7 on Google News.