Indian onion prices have buyers in tears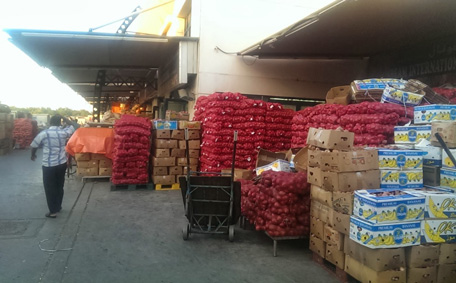 The price of Indian onion has increased by almost 30 per cent in the UAE amidst a drop in imports.

Wholesale price on Sunday stood at about Dh2.50 per kg and most retailers were selling it for around Dh3 and Dh3.50 per kg.

India has been hit by a severe shortage of onion with price per kg increasing to almost Rs80 (Dh4.41) in the retail market while wholesale price stood at around Rs57 (Dh3.14).

The shortage of Indian onion has resulted in increased UAE demand for onion from Pakistan and Egypt.

Onion from Pakistan is currently priced at around Dh1.7/kg in the wholesale market in the UAE while the ones from Egypt are priced at Dh1.5 per kg.

Wholesale traders at the Fruit and Vegetables market told Emirates 24|7 that the current prices of Indian onion in the UAE reflect last month's rate and no new imports are coming through.

Exports from India have been heavily curtailed due to shortage in the domestic market.

"Given the current rates in India, it makes no sense to import from there," said Abdul Jaleel, a wholesale trader at Dubai's Fruit and Vegetables market in Al Aweer.

It could also result in an increased demand and prices for onion from Pakistan.

"We are now expecting an increase in demand for onion from Pakistan, and this could also result in a slight price rise. Expect the prices of Pakistani onion to move up to Dh2," said Jaleel. He, however, added that there is no shortage of supply in the UAE.

Nevertheless, Indian onion is preferred by Indian restaurants. "Especially for biryani, we prefer Indian onion as it is less watery," said Faisal, who owns a restaurant in Deira.

Onion prices in India have risen by almost 80 per cent since the beginning of August. In 2013, retail prices moved up to almost Rs100/kg.

Media reports from India are also point at onion being stolen from warehouses. In an incident in Mumbai, about 700kg onion was reportedly stolen during the weekend.

Follow Emirates 24|7 on Google News.