Khalifa sanctions $3 billion aid package for Egypt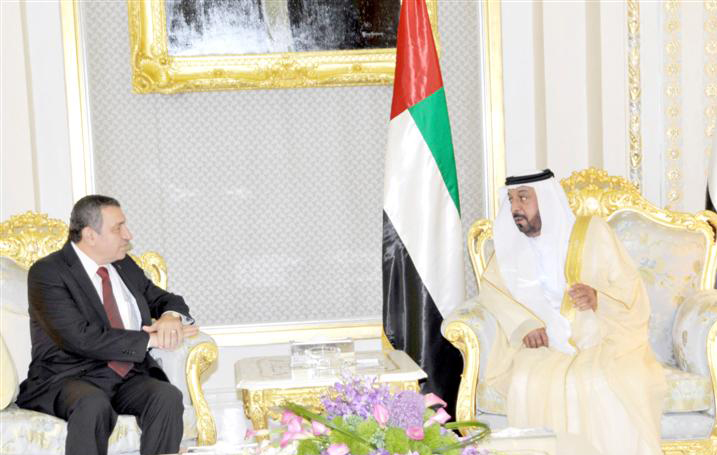 President His Highness Sheikh Khalifa bin Zayed Al Nahyan has issued directives to allocate an aid package of $3 billion for Egypt.
This came during a meeting held here today between Deputy Prime Minister and Minister of Presidential Affairs Sheikh Mansour bin Zayed Al Nahyan and Egyptian Prime Minister Dr Essam Sharaf.
The meeting was held in presence of the Chief of Abu Dhabi Crown Prince's Court Sheikh Hamed bin Zayed Al Nahyan.
Under Sheikh Khalifa's directives, $1.5 billion fund - the Khalifa bin Zayed Fund for Small and Medium-Sized Enterprises - will be established in Egypt with the objective of providing business and job opportunities to a broad range of Egyptian youth.
Sheikh Khalifa also directed allocation of $750 million as a grant to develop housing and infrastructure projects for the schemes to be created under the fund.
Another US$ 750 million will be set aside as concessionary loans for different projects in Egypt.
Sheikh Mansour said that Sheikh Khalifa's directives emanated from the deep-rooted fraternal ties between the UAE and Egypt.
Dr Sharaf expressed appreciation of Egypt and its people to Sheikh Khalifa's initiative which "embodies the historic stands of the leadership and people of the UAE who spare no effort in supporting their brothers all the time."
The meeting was attended by Mohammed bin Dhaen Al Hameli, energy minister, Ahmed Juma Al Zaabi, Deputy Minister of Presidential Affairs, Mohammed bin Nakhira Al Dhaheri, UAE Ambassador to Egypt and Tamir Mansour, Egyptian Ambassador to the UAE.
Follow Emirates 24|7 on Google News.