Latest weather: Another hailstorm, now in UAQ; temperatures drop 10°C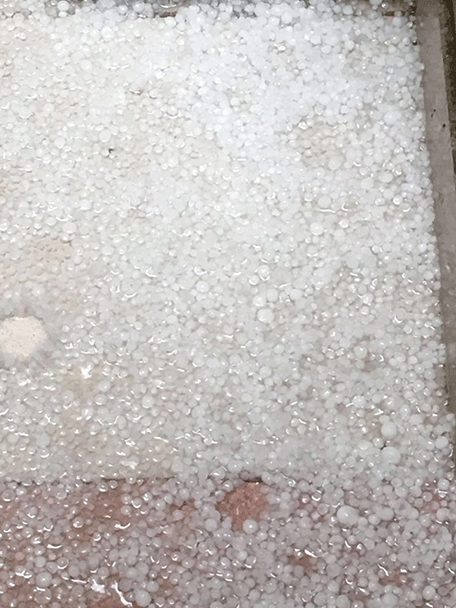 The storm clouds may be passing, but not without another down pouring of hail that was witnessed in the morning hours of Thursday in Umm Al Quwain.
The UAE's weather bureau confirmed the state witnessed a hail storm around 7am on Thursday, with the eastern part of the country expected to receive more rainfall following yesterday's deluge that has caused waterlogging in the northeastern part of the state.
Speaking with 'Emirates 24|7', a spokesperson with the UAE's National Centre for Meteorology and Seismology (NCMS) said: "The state of Umm Al Quwain experienced a hail storm on Thursday morning, around 7am, with the eastern region of the UAE poised for more rainfall later in the day."
The NCMS attributed this 'unstable weather' to the transitional period between winter and spring seasons, which saw Dubai and Sharjah experience a hail storm yesterday, with reports coming in of snow in the mountains of Ras Al Khaimah and Fujairah.
Meanwhile, severe waterlogging has been reported in parts of Fujairah and Sharjah, with emergency services clearing out neighbourhoods even on Thursday.
The spokesperson further added: "The highest rainfall recorded on Wednesday was in Wadi Al Qor, Fujairah that recorded 19.4mm, followed by 11.4mm in Al Zayed and 7.8mm at Ras Al Khaimah Airport."
Temperatures also plummeted in the midst of the storm by nearly 10 degrees Celsius, with the NCMS adding: "A sudden drop in temperatures is normal during a hail storm, when the upper atmospheric temperature can reach as low as -8 degrees Celsius, giving rise to freezing rain.
"This will cause the ground temperature to drop by nearly eight degrees, which was the case on Wednesday's storm; however, the Mercury rebounds almost immediately after the sudden drop."
More rainfall is on the horizon for Thursday, before the weather system weakens by Friday.
Follow Emirates 24|7 on Google News.