Mother's pride, brother's hope, wife's belief: Families of UAE martyrs...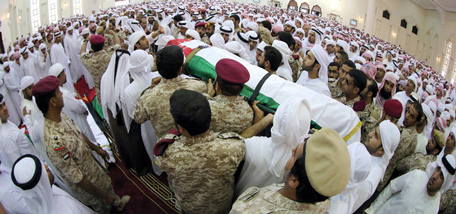 The UAE has offered 45 martyrs who fell in the line of duty during 'Operation Restoring Hope,' under the Arab alliance to support the people of Yemen and their legitimate government.

Martyr Khalifa Ahmed Yamahi. (EAY)
The Yamahi family, from Fujairah, gave the UAE two martyrs - Khalifa Ahmed Yamahi and Rashid Saeed Yamahi. Rashid was Khalifa's nephew.
Ahmed Yamahi, brother of martyr Khalifa, said that the martyr was a good man, loving and supportive.
The martyr had five children - three sons and two daughters.

Martyr Shahid Rashid Yamahi had a sense of humour, the family recounts.
He pointed out that the martyr followed up on his children for the first week of the new school year and contacted them and asked them to listen to their mother.
The brother said he was "encouraged" by the news of his brother's martyrdom.
'I wish to die for the sake of truth'
Sheikhan Kalbani, brother of martyr Saeed Shaikhan Al Kalbani, who gave his life on national duty, said the last words: "I wish to die for the sake of truth, and I go back to the homeland martyrs, and was accompanied to my family and lovers."
Sheikhan wrote to 'Emarat Al Youm', expressing pride in his younger brother. "We all went out of the house to the military. My father, six brothers, including me, hold the honour of belonging to our armed forces.
He added: "Martyr Abdullah has not married, and it was his main concern since joining the armed forces to defend this great nation."
'I miss you very much'
Salima Mohammed Hamid, mother of two martyrs Hamid and Rashid Muhammad Abbas Baloch, from Kalba, Sharjah, expressed pride in her two sons.
The widow of martyr Hamid Abbas Baloch (35 years), said she was shocked upon receiving the news of the death of her husband but at the same time felt proud.
The martyr has five children, three sons and two daughters.
Wife of the martyr Rashid (37 years), said he has four children and the oldest is 12. She added: " I received a text message from my husband at 6.52 on Friday morning, before his death. He said: 'Good morning... I miss you very much'.
'We all sacrifice for homeland and leadership'
The same feelings were in Ajman where the family of martyr Sultan Obaid Al Kaabi expressed pride in their son who was very keen on protecting the homeland and he became a martyr.
Saif Obaid Al Ka'abi, brother of the martyr said: "We all sacrifice for the homeland and leadership."

Martyr Sultan Obaid Al Kaabi. (EAY)
He expressed his pride in the martyrdom of his brother Sultan Al Kaabi, who was martyred with heroes while supporting Yemen.
He added his 48-year-old brother called his wife on the night of his death and asked about his sons.
Al Ka'abi said: "We are eight brothers, one of our brothers died recently and now, martyr Sultan. Still we six will sacrifice for the homeland."
READ: Top footballer among UAE martyrs... Defender till the end
Follow Emirates 24|7 on Google News.