NCMS forecasts fog, warns of poor visibility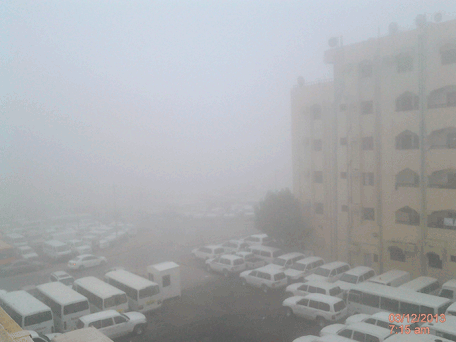 The National Centre for Meteorology and Seismology (NCMS) has issued a statement, warning of the low horizontal visibility in various parts of the country due to fog.
NCMS expects foggy weather, partly cloudy to the north, pleasant during daytime and cold by night; it forecast that temperature tends to rise. It said humidity will increase during night and early morning over some coastal areas with chance of some mist/fog formation.
The Met office forecast fog over the next two days – especially in the Western region.
The motorists have been urged to driver cautiously and maintain distance between the vehicles.
On January 16th, one died and 14 people were injured in an accident involving 57 cars on Abu Dhabi-Al Ain road due to low visibility during thick fog.
Major Salah Abdullah Al Humairi, Chief of the Al Ain Traffic and Patrols Section at the Traffic and Patrols Directorate General of Abu Dhabi Police, said investigation results showed that the accidents were due to low visibility during thick fog and driver had not maintained sufficient distance between the vehicles and not followed speed guidelines.
Police later said that it's considering installing more radars at locations of major and dangerous accidents on Abu Dhabi-Al Ain highway following the 57-car pile-up.
Follow Emirates 24|7 on Google News.