New centre set up for autism treatment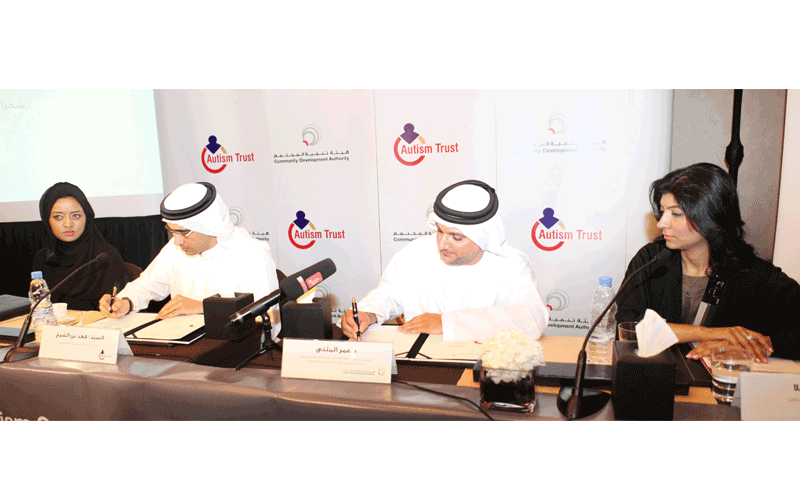 The diagnosis and treatment of autism, a developmental disorder in children, has received a big boost in Dubai with the decision to create of a comprehensive centre for autism rehabilitation through a collaboration between the Community Development Authority and Autism Trust Foundation (ATF), a UK-registered body with boards of directors in the UAE and Canada.
The initiative reflects ATF and CDA efforts to establish a unique centre which can accommodate all the cases in Dubai including the 272 cases that are still on the waiting list at other autism centres.
The centre will also house facilities which will include the latest technical equipment run by internationally qualified therapists to help individuals with autism disorders acquire necessary developmental skills and access to education so that they can reach their fullest potential and become well-functioning members in the community. It will be equipped with the capability to cover all the Emirati children affected by autism besides meeting the requirements of future cases in Dubai.
Khaled Al Kamda, Director General, Community Development Authority (CDA), said: "The establishment of a comprehensive centre of autism rehabilitation is a path breaking achievement considering that needs for autism rehabilitation is growing in Dubai as well as UAE."
Currently, children who are diagnosed with autism find themselves on a long waiting list to receive a free rehabilitation service. The other option left before families with such children is to choose costly private services. Apart from the limited number of service providers, at present some of the services are limited to certain age groups. For instance the DECDC serves 0 to 6 year olds only.
According to figures available, it is estimated that currently there are 272 children awaiting rehabilitation therapy in Dubai. It is also estimated that rehabilitation of each person with autism will cost between 30,000 and 360 hundred thousand per year .
"The initiative is one of the main priorities for our foundation aiming at encountering the challenges faced by autism children in the world and UAE, we will focus on diagnosing all the cases in the waiting list giving the priority to UAE National Families who children are yet to enrol in specialised centers" said Fahad Bin Al Shaikh Deputy Chairman of Autism Trust Foundation.
"The new centre provides a variety of specialised services to deal with autism, including initial and specific diagnoses, behavioural rehabilitation, treatment of speech problems, training for sufferers above 18 years old, in addition to provide training for the families of autism children by experts as well as helping in qualifying local expertise ".
Dr. Omar Al Muthanna, CEO - Social Care Sector in CDA, said: "The collaborative effort of the DECDC and ATF to set up a dedicated centre for autism rehabilitation is very important especially that the ATF is licensed by CDA which ensure the efficiency of the service providers and operations".
"CDA through its mission and strategic aims looks forward to supporting the third sector such as non-government and non-profit organizations, associations and clubs providing services to the local community, and enhancing its role by providing it with expertise, information and statistics, besides providing a convenient environment to start operations following world best practices and the employment of qualified people who can offer superior social care services" Dr. Al Muthanna added.
"Autism Trust Foundation launches many initiatives that aim at helping the families of autistic children such as "Emirates International Autism Centre" representing a well equipped destination to serve autistic children and giving advantage for UAE citizens who wish to contribute to such humanitarian activities and benefit from specialized training" said Ms. Sheikha Al Mutawa, Deputy CEO of Autism Trust Foundation
A memorandum of understanding was signed between CDA and ATF on Sunday April 2 during the announcement of the collaboration to set up the new centre.
Follow Emirates 24|7 on Google News.