New Indian CBSE school opens in Qusais School Zone in Dubai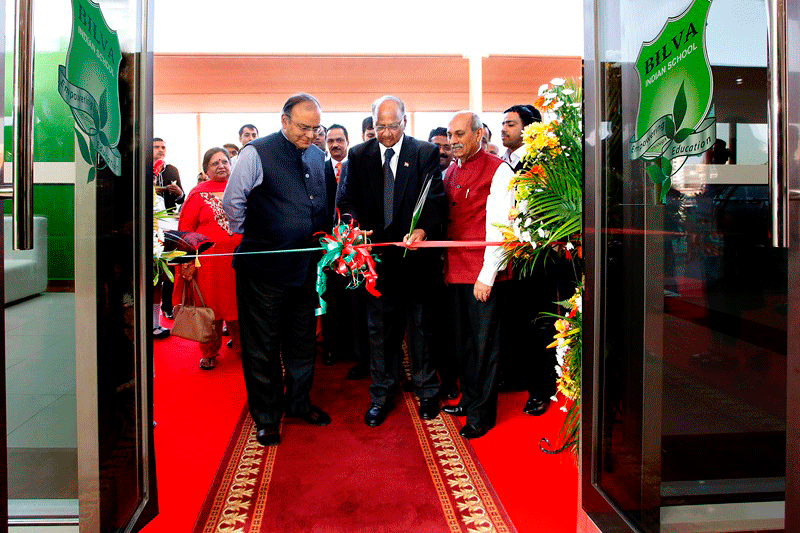 A new Indian school following the CBSE syllabus has been inaugurated in the school area of Qusais in Dubai by India's Minister for Agriculture Sharad Pawar.

The Bilva Indian School, with a capacity to admit more than 3,000 students, opened its campus in Al Qusais School Zone on March 1. The CBSE curriculum school will initially enroll students from KG1 up to Grade-6 for the 2014-15 academic year.

The school has been approved by the Knowledge and Human Development Authority (KHDA) for enrollments up to Grade-6 currently. Bilva Indian School is started by the Karnataka Lingayat Education (KLE) Society which runs over 200 educational institutions providing school education, nursing, pharmacy, management studies, engineering and computer training in India.

The BIS campus, spanning over 2, 40,000 square feet, is located close to residential communities as well as the emirates of Sharjah and Ajman.

Commenting on the inauguration of the campus, Dr. Prabhakar Kore, chairman of KEL Trust and MP from Karnataka, said, "We are proud to announce the opening of the new campus in the heart of Dubai. Bilva Indian School will provide world-class education having a strong focus on Indian culture and values. We have a clear sense of purpose to use this as a compass, which will help us navigate the school's journey towards exceeding everyone's expectations."

Arun Jeitley, leader of the opposition in the Indian Parliament's Upper House, and B R Shetty, Chairman and Managing Director, NMC Group were also present at the inaugural function on Saturday.

This is the first school in the UAE to be set up by KLE which is nearly a century old educational trust from India's southern Karnataka state.

"We have been trying over the years to start this new school and now it has become a reality," said the school chairman during the inauguration.

KLE, founded in 1916, long before India attained independence from the British in1947, currently has 238 educational institutions spread across Karnataka, Maharashtra, Goa and Delhi. 200 institutions were added during the period from 1980 to 2013 and the Bilva Indian School is the society's first foray abroad to cater to the education needs of Indian expatriate community. With an asset base of Indian Rupees 130 billion, the society which runs educational institutions in almost all districts of Karnataka, brings out 87,000 students per year from various institutions and employs over 10,000 teaching, nonteaching staff.

Speaking on the inauguration of the school, Ahmad Mohamed Al Jafla Al Hemeiri, Director of BIS, said: "Being a new entrant in Dubai's education sector, we have many responsibilities. We have in place a strong academic and supportive system that sets the standard for quality. Our curricula led by teacher-experts in their fields, provides opportunities for students to excel in their area of choice. We strive to make the students competitive by creating an atmosphere where students, faculty and staff thrive."

Jagdish K. Jeswani, director of BIS, said: "Contributing to the UAE's urgent need for quality schools, the school will facilitate excellence in education while keeping consistency in academic standards of global quality. The school offers world-class facilities in a technology-enabled environment, and excellent teacher-student ratio giving personalised attention."

Richard Monteiro, principal of BIS, said, "We will provide opportunities to develop hidden talents through systematic and well planned co-curricular activities. Experienced and dynamic teachers will help our students become dynamic individuals. We will strive to make the students sensitive in all manners - socially, culturally and intellectually. Following the internationally accepted CBSE curriculum, the essence of education at BIS will be holistic or the all-round development of the students as they learn through creativity and self-discovery allowing them to emerge as confident world class citizens."

"The school would train its students to look beyond academic efforts, helping them in the choices they make to face the challenges of life in a positive and dynamic manner. Here, education would be a partnership between the faculty, parents and students as every step we take is aimed at the betterment of our students' overall personality. The students would be provided with the right opportunities that will help them develop their talents and abilities," he added.

The school has set up in each class room learning centres - literacy, mathematics, role play, science, art, reading corner, and building centre.

The KG and early years curriculum is based on the guidelines of the EYFS and Montessori approach to learning.

Follow Emirates 24|7 on Google News.