...or else, no garbage collection in Springs, Meadows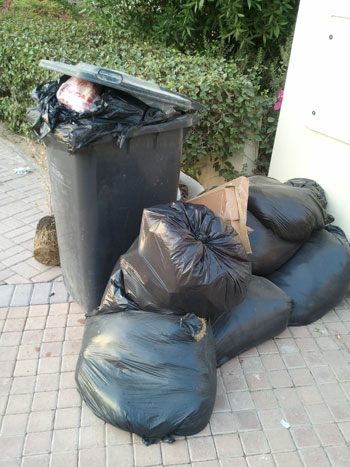 There's a foul smell spreading in the neighbourhood of some villas in Dubai's upscale Springs and Meadows communities.
These villas belong to owners who haven't paid their service charges for years.
Garbage bags have begun piling outside these villas as Emaar Properties, the master developer and manager of these communities, has stopped garbage collection as their owners haven't cleared their outstanding dues.
"Emaar has stopped certain community services such as picking up the garbage in Meadows/Springs from units whose owners are service charge defaulters and by doing so they have directly targeted the residents who are renting," John R, who has rented a villa in Meadows, told Emirates 24|7.
He states that as a tenant he did endeavor to find out how much his landlord owes, but was told that as per Emaar policy they would only communicate with the property owner.

"My issue is that they have now made the service fee part of my problem which I am unable to resolve directly."
Meanwhile, garbage is piling up and is leading to a serious hygiene problem in the community.
"What is worse is that this also inconveniences those owners who have paid their service fee as garbage, bad smell and disease are everyone's problem," John says.
Faisal Baig, who owns villas in the Springs/Meadows, says: "It's common practice that Emaar follows in these communities when the owner does not pay their service charges. However, I believe that it is only the last resort."
He does admit that tenants, who has paid a premium to stay in these communities, do suffer because of the owner's fault.
"He has to speak to his landlord and get the matter sorted," he adds.
Well one the sufferer's has found an ingenious way.
He is using his neighbour's bins till the time his landlord clears the dues.

Going by the name on a online community forum, Derien, states: "We have just sent an email to Emaar to find out how much the landlord owes. On the name and shame board, it says 2010 and 2011 are outstanding.
"Our landlord is quite nice so I am hoping he will pay for it and quickly. The neighbours are on vacation so we might have to start using their bins to ensure collection. It really stinks."
Another tenant in the Springs says that Emaar does not allow tenants to find out whether their owner is a service charge defaulter or not.
"There is no facility from Emaar to find out if the owner is a defaulter of service charge.
"I believe they should provide a service similar to Nakheel and let renters know the status on service charge."
Emirates 24|7 reported in May that Emaar had started naming and shaming people who are not willing to pay maintenance charges on time.
Right at the entrance of the different communities within Springs and Meadows, the developer had put up the street and villa numbers of those who haven't paid up.

Emaar had yet to respond to queries from Emirates 24/7 at the time of filing this report.
MUST READ:


Countdown has begun: iPhone 5 official release date revealed
US Navy open fire on boat near Jebel Ali, kill Indian fisherman
Shocker: 10-yr olds in UAE have clogged arteries like 60-yr olds
Follow Emirates 24|7 on Google News.