Police seize 42 illegal jet skis after boy's death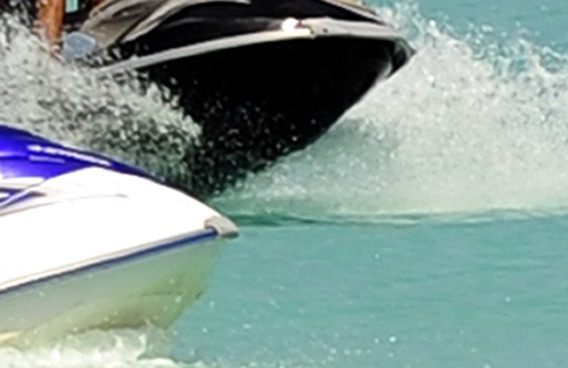 Dubai Police have seized 42 illegal jet skis and four dhows in the past month after stepping up enforcement on the shores of Umm Sequim Beach, Jebel Ali and Al Mamzar Beach in Dubai.
Lt. Col. Abdullah Al Mazyood, acting director of the ports police station, said the seizure of the violating jet skis came as a result of a campaign by the center for the protection of beachgoers and swimmers.
The move came after a 17-year-old Emirati boy was struck and killed in May by one of the craft off the Palm Jumeirah. Most of the impounded crafts were unregistered, police said.
According to Law Number 3, issued by the Dubai Executive Council in 2008, jet skis can be driven only in allocated areas and care should be taken to oblige with safety measures. Bikes should not be used in any such way that will put others' lives in danger.
The fine for driving a water bike without licence for the first time is Dh500 and seizure of the bike; Dh1,000 fine plus seizure for a month for the second-time violation; and third-time violators will pay Dh1,500 fine and have their bikes seized until issuance of the registration, explained Al Mazyood.
Riders caught without life jackets will be fined Dh200, Dh400 and Dh600, respectively, in the first, second and third instances.
Those caught riding outside allocated areas will be fined Dh500, Dh1,000 and Dh1,500, respectively, in the first, second and third instances of violations.
Similarly, reckless drivers will face Dh500, Dh1,000 and Dh1,500 fines for the respective number of violations.
Driving with licences that have been expired for more than a month will incur a fine of Dh200 for the first time and Dh400 plus two weeks seizure of the bike for the second instance. A third time violation will earn the driver Dh600 fine and his bike will be confiscated until renewal of registration.
Overloaded bikes will also be fined Dh500, Dh1,000 and Dh1,500 respectively for the three instances.
Follow Emirates 24|7 on Google News.