Premature baby in battle for life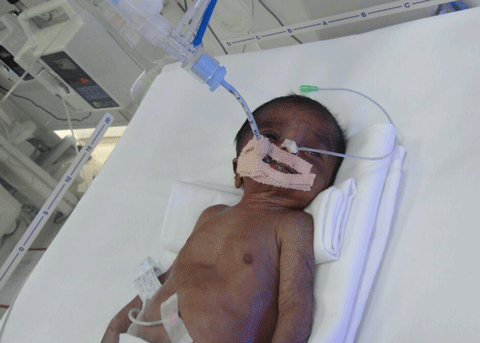 An Indian couple in Sharjah is struggling to ensure their premature born survives after developing multiple complications following his birth on May 23.

Born two months ahead of his due date at GMC hospital in Ajman, the baby developed respiratory problems, and collection of fluids in his lungs.

"My baby was put on the ventilator for the first 10 days, and then doctors spotted some internal bleeding, which was rectified," recalled Jinu Rajan, adding he's decided to name his baby Chris.

"A few days later, his organs started slowing down, and doctors had to treat that. Then, they spotted fluid collection near his lungs, and a surgery was conducted to drain it out.

"There has been one complication after another."

It's not just the emotional ordeal of watching one's child in NICU that's worrying Jinu, it's also the mounting hospital bill.

"The NISU charges are Dh3,000-Dh4,000 per day, and doctors are unable to tell us how many more days my baby would need hospital care."

So far, Jinu has paid Dh40,000 towards the baby's care and his wife's delivery charges.
"As of today, I have to pay Dh84,500. But, the charges will continue to add up every day."

Jinu, who works as a draftsman, does not get company medical cover for his family. That's the reason why he had planned the delivery of his second child in Kerala.

His wife Mary Oshiya had developed sudden complications the day they were set to travel.

"We were all set to fly out on May 27, but she developed pain on May 22.
"We went to the Al Qassimi Hospital in Sharjah, and after a thorough check-up they reassured us she was fine and fit to travel to India.

"I decided not to wait until May 27, and rescheduled our tickets for the next day (May 23). I had contacted my company, and got my leave dates approved. But, around 3pm, she complained of pain.
"I rushed her to GMC Hospital in Ajman, and she was kept under observation.

"It's when I had stepped out, I got a call saying the baby had arrived."

Jinu adds that his wife has been in a terrible mental state. "We are praying for our child's recovery. We go to the hospital morning and night."

He hopes a time will come when his son will be fit to travel, and he can move them back to Kerala.
"I had even planned to put my three-and-a-half-year-old daughter in a school there. I just hope it all works out."
Follow Emirates 24|7 on Google News.