Public bus stops in Business Bay... still a long way off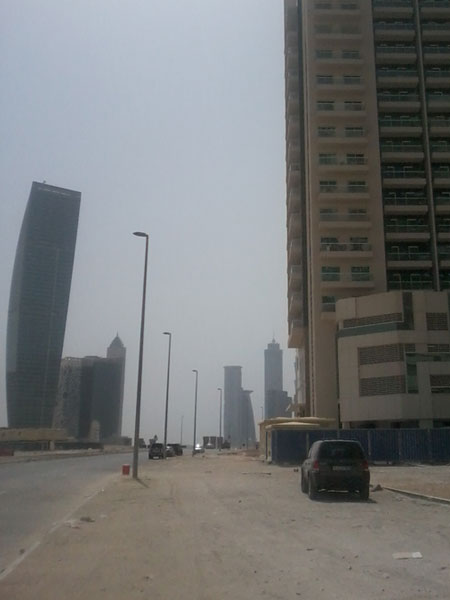 Bus routes in Business Bay are currently non-existent. Massive construction work and a low occupancy level are bound to keep it that way for the time being, say residents.
It looks attractive - living in an apartment overlooking the extended arm of the Creek crawling through the high-rise panorama of Business Bay. Apartments are available on both sides of the creek; the better-priced options being the apartments further down the area, with easy access to Al Khail Road. But, if you do not have a car, you should forget about this option.
"I was looking for a one-bedroom apartment in Business Bay," says Elizabeth Tailor, a 29-year-old Brit working in Dubai. "The area is centrally located, and the apartments look amazing."
Surfing the web with a search term such as 'Business Bay apartments' currently mostly results in finding apartments in residential towers such as Mayfair Residence, Mayfair Tower, Churchill Tower and other apartment edifices on the south side of the Creek.
"I was told by real estate brokers that apartments close to the Business Bay metro station are hard to find, because they are mostly occupied. Furthermore, apartments south of the Creek are much lower in price," tells Elizabeth.
Very easily Elizabeth was able to find an apartment in Mayfair Residence suiting her budget: Dh43,000 a year, requiring four cheques. But, when she stepped out of the metro station at Business Bay, she realized that getting there was more difficult then she had expected.
"I could not find a bus going to the building, and walking was not an option, as there is only one bridge crossing the Creek, this being a highway. I had to take a taxi.
"These residences are not for people without a car," says a real estate broker dealing with apartments in the area. "If you do not have a car, your only option is renting an apartment closer to the metro station, and these apartments reach into the Dh60,000 for a one bedroom."
"Originally, Dubai Bus Master Plan suggested routes to be operated within Business Bay. However, the development of Business Bay district is hampered by slow provision of utilities such as electricity, sewage system etc.," explains Mohammed Al Ali, Director of Planning and Business Development of the Public Transportation Authority (PTA).
"Significantly, impacting the provision of bus services is the massive road work undergoing in the area."
Ever since the project was launched the area has been covered in sand, and even pedestrians find it difficult to reach their buildings that are located opposite the metro station.
"A master development of this magnitude obviously takes time to reach its full developmental potential," said a spokesperson of Dubai Property Group (DPG), the developer of the Manhattan-styled community earlier to this website.
However, the due construction work is not the only reason for PTA to be reluctant in launching the bus routes that were initially planned for the area.
"The majority of properties are still under construction, and those that are completed have low occupancy. Overall, the area does not generate adequate demand to justify public bus service for the time being," explains Mohammed.
In Mayfair Tower a couple of residents are sitting in the lobby. "I am waiting for a taxi," says a Filipina who has just moved in to the building. "This is the only way to get out of here. You call a taxi, about 20 minutes in advance. To the nearest metro station will cost you Dh17, the costs for preordering included. From there you can take the metro."
"If I had to pay this amount twice a day, I would not be able to live here. But for my work I have arranged a car lift. After work I do not go out very often."
Although bus stop time tables are currently present at locations where future bus routes will make their way, it is unclear for now when the buses will be ran.
"PTA is consistently coordinating with developers to see when residency levels increase, allowing the provision of timely and effective service," indicates Mohammad.
Business Bay contains 80 million square meters of mixed-use space and is expected to house 191,000 residents, and 11,000 employers once the entire project is completed.
Follow Emirates 24|7 on Google News.