Revealed: Most customer-friendly retailers in Dubai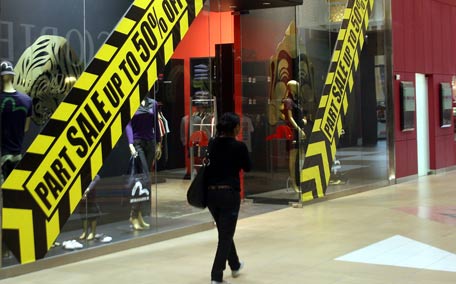 Customer is king. But do all Dubai retailers treat their customers as such? If you aren't satisfied with your experience, then try visiting these retailers.
Dubai's Department of Economic Development (DED) has released the third edition of its Consumer Friendliness Index 2014, which shows the most customer-friendly retailers in the emirate.
The retailers were selected from seven segments, namely gold and jewellery, electronics, hypermarkets, furniture, retail, coffee shops and automobiles.
The most friendly company in gold and jewellery segment was Pure Gold, which also topped overall retail sectors; Fono and Jumbo in electronics; Hyper Panda in hypermarket category; Ikea in furniture; MH Alshaya in retail; Dome Café in coffee shops; and Al Nabooda in automobiles segment.
Overall, customers found gold and jewellery retailers were the most friendly, scoring 84 points while automobile distributors were the least with 70 points.
Commenting on achieving the best customer satisfaction rating, Karim Merchant, Group CEO and MD of Pure Gold, said: "We try to keep things as simple as possible and not make them complicated by training ourselves."
Achieving a very high customer satisfaction rating, HyperPanda was selected as the most friendly hypermarket by customers with 80 points for its transparency and clarity in price displays. Customers believe that vegetables and fruits were the biggest concerns when they shop at the hypermarkets.
In the hot and highly competitive electronics sector, Fono and Jumbo Electronics got the best customer friendliness rating of 79 on the 2014 index. Customers believe that electronics products' quality and inadequate information need to be improved by Dubai retailers.
Vishesh Bhatia, CEO of Jumbo Electronics, said the higher customer satisfaction rate is vindication of company's strategy that was changed 24 months ago of keeping it customer-centric.
"We were more product-centric at that time and not multi-brand – we changed all that. A lot of money has gone into training and refreshing staff on how to look after the customer. We also have mystery shoppers," said Bhatia.
In the furniture category, Ikea achieved 82 points in the Customer Friendliness Index of DED as the survey showed that that 11 per cent of the respondents had to approach DED to resolve their complaints regarding Ikea purchases, mostly regarding furniture quality, high prices or delays in product delivery.
MH Alshaya has been rated the best retailer with 78 score for strong satisfaction level among its female customers and after-sale services. It, however, scores low on pricing and product quality.
Among the coffee shops category, Dome Café was the top-scorer with 74 points with male customers in the 35-44 age group giving a high rating for the outlet for value for money.
Al Nabooda Automobiles was the most friendly car agency with index score of 80. The survey found that the majority of consumers are satisfied with their car agencies in general although prices and service quality needs to looked at.
Sami Al Qamzi, Director General of DED, said it's good to see the Consumer Friendliness Index initiative completing three successful years with a 110 per cent increase in number of participants – from 24 in 2012 to 52 in 2014.
"It's also satisfying to see the Gold sector making a remarkable entry and we expect to see more participants joining the index in its next cycles and the competition growing stronger. The consumer friendliness rating aims to strengthen the relationship between the merchant and the consumer by encouraging traders to offer best-in-class customer service and constantly improve their professional standards as well as the customer experience available to the community at large in the emirate of Dubai, which represents the quality of retailing in the UAE and the Middle East," he added.
Around 52 companies participated in the third edition as compared to 24 in the first edition.
In 2013 Customers Friendliness Index, the highest customer rating in the Cars sector made Juma Al Majid the overall leader, Lulu in hypermarkets, Alshaya Group (Debenhams) in retail, Tim Hortons in coffee shops, Emax in electronics and Homes R Us in furniture.
Follow Emirates 24|7 on Google News.