RIM hints at giving access to data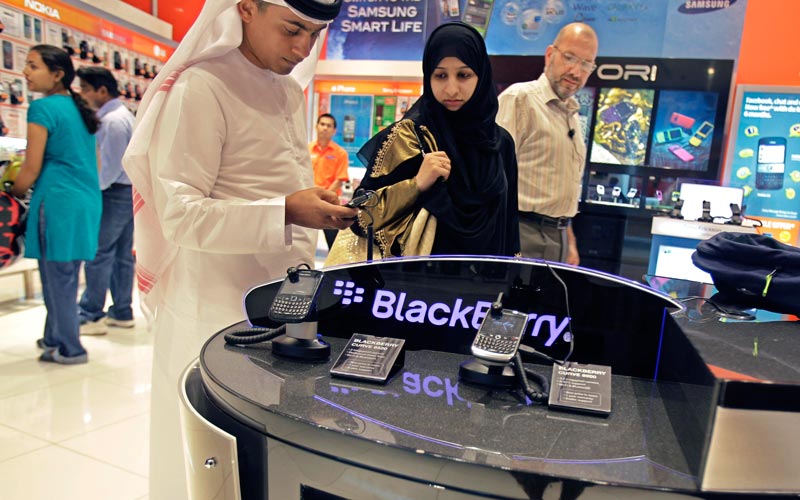 BlackBerry returned to the forefront of mobile phone trading in Abu Dhabi just two days after the UAE's regulators announced there would be no suspension of services following a last-minute agreement with the Canadian makers.

Most dealers said their BlackBerry stocks had run out as customers flocked to mobile phone shops to buy the handset which many of them had sold in the wake of the announcement by the Telecommunications Regulatory Authority (TRA) in early August that it would halt the service from Monday.

The surge in sales after TRA's Friday announcement that the services would continue as normal boosted BlackBerry retail prices by around Dh100 while mobile phone shops struggle to get more handsets after running out of stock.

In a statement sent to Emirates 24/7 on Monday, BlackBerry manufacturing company, Research in Motion (RIM), refused to give details of the deal reached with TRA but indicated the deal took into account the UAE security needs.

"Although RIM cannot disclose confidential regulatory discussions that take place with any government, RIM assures its customers that it genuinely tries to be as cooperative as possible with governments in the spirit of supporting legal and national security requirements, while also preserving the lawful needs of citizens and corporations," it said in response to a query by Emirates 24|7.

"RIM confirms that it continues to approach lawful access matters internationally within the framework of core principles that were publicly communicated by RIM in August….RIM has drawn a firm line by insisting that any capabilities it provides to carriers for lawful access purposes be limited by four main principles."

Within two days of TRA's announcement, at least 500 BlackBerry handsets were sold on Defence Road, the main cellular phone shopping centre in the Capital.

Dealers said the jump in Blackberry sales was at the expense of other famous mobile phone brands including Nokia, I-Phone, Sony Ericsson and Samsung. Many clients were reported to have replaced those brands with BlackBerry.

"I have had around 20 BlackBerry handsets in stock since August….they were all sold yesterday…I have ordered more but suppliers from Dubai say they do not have at present," said Imad Hariri, a mobile phone dealer on Defence Road.

Another dealer said BlackBerry prices shot up by around Dh100 per handset in just one day because of the surge in demand.

"This is normal…there is a very high demand for the handset and this has caused it to disappear from most shops," said Zakaria Masri, manager of Gold Crown shop, one of the largest mobile phone dealers in Abu Dhabi.

"I am talking about BlackBerry Curve 9700….two days ago, it was sold for around Dh1,700 and today we are selling it for Dh1,800…some shops are asking for a higher price and I think customers do not mind."

The sharp rise in BlackBerry sales followed a two-month freeze in its trade because of the previous TRA's announcement that it would suspend the handset's messenger, e mail and web browsing services.

While the plunge inflicted losses on some dealers, it largely benefited other famous mobile phone brands battling to maintain their share of the lucrative UAE market, one of the largest cellular phone markets in the Middle East.

"Over the past two months, BlackBerry sales have come almost to a standstill…this has given a shot in the arms to Nokia and other major mobile phone brands that had been hurt by the advent of Blackberry in the past couple of years," said Abdul Monem Saleh, Manager of Alasala mobile phones.

Despite its relatively small population, the UAE has one of the largest mobile phone markets in the region, with an estimated turnover of more than Dhtwo billion every year. The country also has one of the highest mobile phone penetration ratios in the world, surpassing 200 per cent at the end of 2009. Around 72 per cent of the market is controlled by etisalat and 26 per cent by du.

Between 2002 and 2008, the number of mobile phone users in the UAE leaped by a staggering 27 per cent annually, one of the highest rates in the world.

From around 2.4 million, the number rocketed to 7.6 million at the end of 2007 and exceeded nine million at the end of last year.

Realising its lucrative market, key mobile phone manufacturers have been locked in an endless battle to grab a bigger share of the UAE, cutting prices and expending their distributor and services network in the country.

Dealers said Finland's Nokia has remained the unquestionable market leader, controlling more than 50 per cent of the turnover. Other major mobile phone exporters include Samsung, SonyEricsson, LG and Motorola.

Estimates provided by most dealers put Nokia's share in the UAE market at around 55 per cent, followed by SonyEricsson at 17 per cent, and Samsung at 15 per cent. The rest is controlled by LG and other brands.

An estimated 500,000 people are subscribers to Blackberry services in the UAE, second only to Saudi Arabia in the region.


RIM four main principles

1. The carriers' capabilities be limited to the strict context of lawful access and national security requirements as governed by the country's judicial oversight and rules of law.

2. The carriers' capabilities must be technology and vendor neutral, allowing no greater access to BlackBerry consumer services than the carriers and regulators already impose on RIM's competitors and other similar communications technology companies.

3. No changes to the security architecture for BlackBerry Enterprise Server customers since, contrary to any rumors, the security architecture is the same around the world and RIM truly has no ability to provide its customers' encryption keys. Also driving RIM's position is the fact that strong encryption is a fundamental commercial requirement for any country to attract and maintain international business anyway and similarly strong encryption is currently used pervasively in traditional VPNs (virtual private networks) on both wired and wireless networks in order to protect corporate and government communications.

4. RIM maintains a consistent global standard for lawful access requirements that does not include special deals for specific countries.
Follow Emirates 24|7 on Google News.