RTA's fitness test for Dubai driving licence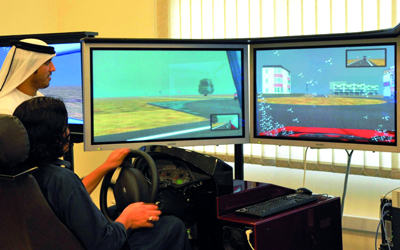 The Roads and Transport Authority (RTA), has briefed delegations from the Ministry of Health (MoH), Dubai Health Authority (DHA), Health Authority Abu Dhabi (HAAD), and Ideal Soft Emirates, on the issuance of annual professional permits with respect to some driver categories (trucks, buses, taxis, and private chauffeurs), which require fulfilling key requirements highlighted by medical fitness.

"Obtaining professional driver permits proves that the concerned drivers have gone through and passed the prescribed medical tests and are free from diseases," said Sultan Al Marzooqi, Director of Drivers Licensing at RTA Licensing Agency.

"The medical standard applied in Dubai, which is approved by the DHA, conforms to the standard of Driver and Vehicle Licensing Agency (DVLA) applied in the UK.

"Applying this standard raises the profile of Dubai as it conforms to a high-level set of European medical assessments aimed at verifying that those drivers are medically fit to drive vehicles.

"This encompasses the examination of certain health aspects such as blood pressure, diabetes, eyesight and general health screening," he explained.

The gathering included a visual presentation explaining procedures of medical fitness test and the issuance of professional permits.

It also spotlighted stages of conducting medical tests starting with submitting applications through service centres, driving institutes, eyesight testing, website, dispatching the driver to a hospital to undergo medical tests, and issuing professional permits which are received online directly from hospitals.

The presentation also spotlighted the eight entities approved to carry out medical fitness tests; DHA, Canadian Hospital, Iranian Hospital, Prime Medical Centre, DM Hospital, Zulekha Hospital, Al Khaleej Hospital, and Al Musalla Hospital.

The driver is subjected to frequent medical tests in different hospitals to verify test results.

The integrated online system, which is linked with the traffic system, will be available for use by any hospitals to be approved in this regard.

The presentation explained that professional permit had to be renewed annually at a fee of Dh100, and revealed that the number of medical fitness tests conducted by hospitals last year amounted to 44,911 tests, whereas medical fitness tests made in January and February this year alone amounted to 11,616 tests.
Follow Emirates 24|7 on Google News.