RTA to crackdown on malpractices relating to public buses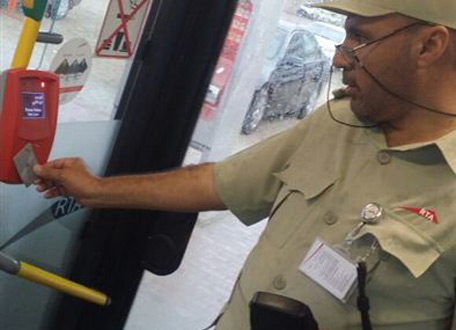 RTA's Public Transport Agency has reported a series of violations on public transport services in the Emirate of Dubai.
Such malpractices include offences related to the non-payment of applicable fares on the part of some passengers, and other offences made by both bus drivers and passengers regarding the use of buses and related facilities such as bus stations and air-conditioned shelters.
These violations came to surface during the 'Rasid', or monitoring, campaign undertaken by the RTA's Public Transport Agency to monitor the daily negative practices witnessed in this sector, and issue fines in a bid to put a stop to them.
Abdullah Al Mahri, Director of Monitoring and Transport Activities, said, "The crackdown aimed to report bad practices such as the avoidance of the payment of the applicable fare of using public buses as mandated by Law Number 03 for 2009 regarding the uniform tariff for using public transport in the Emirate of Dubai. The campaign was also aimed at verifying the compliance of bus riders with the rules, regulations and codes of conduct in implementing the Administrative Resolution No 570 for 2014 regarding Quality Regulations of Public Bus Drivers.
"It was also aimed at monitoring the compliance of bus riders, commuters, and users of related transport facilities with Order No. 03 for 2009, and verifying the implementation of the Executive Regulation of the Administrative Resolution No. 201 for 2012 regarding the standards and stipulations of transporting passengers in the Emirate of Dubai. The ultimate purpose of the campaign is to report negative practices, be it by bus drivers, passengers, or users of public transport facilities, and report the offences in a bid to curb these practices."
Al Mahri called on bus users to comply with the rules and regulations governing the use of these facilities, and stressed the importance of paying the applicate fares through NOL cards in order to continue enjoying the use of the buses.
This, he noted, would, "support RTA's efforts to deliver services befitting residents, visitors and tourists flocking to the Emirate of Dubai from all over the globe."
The Public Transport Agency earlier this year launched advanced technology for monitoring the numbers of bus commuters in Dubai.
It is a sophisticated smart system comprising several components, some of which are onboard the bus and others are installed in the Bus Control Centre of the Agency.
The technology calculates the actual number of riders boarding and alighting from public buses per bus-stop, per bus.
Follow Emirates 24|7 on Google News.