Sharjah girl gets 'green' with Dh40 table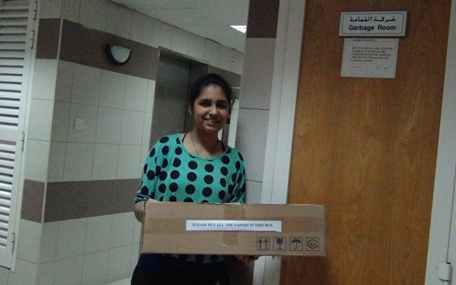 At her age, you would imagine her to be updating herself on the latest trends in movies, music or fashion, or busying herself with school work, but 16-year-old Arushi Madan isn't just a regular teenager. She's extremely dedicated towards lending her voice to the larger cause of conserving our environment.

In a chat with Emirates 24|7, she speaks about how she was all of 10 years when she first felt the urge to be part of the change. "I was chosen as the president of my school's environment club, and that's when it all started."


Arushi has been taking baby steps towards spreading awareness, and encouraging her peers and neighbours to be part of her green revolution.

The Grade 11 student of Delhi Private School-Sharjah was recently honoured with the International Diana Award, which is UK's global recognition signed by the British Prime Minister David Cameron, for her contributions.

Recalling her first big campaign, which started in October last year, she explains how she noticed that her building did not have a proper waste segregation system, and was crucially impacting the process of recycling.


"I saw that newspapers were being dumped with normal household waste, and by doing so, it wasn't getting recycled. We know that recycling paper leads to lesser trees being cut.

"But, no one was doing anything about it. So, I spoke to my neighbours and requested everyone to deposit old newspapers in the well-labelled cardboard boxes that I had placed outside the garbage shoots on every floor of our 11-storied building."

"And, I asked officials from Bee'ah to collect the papers every alternate Saturday, and send them for recycling." She claims her small step lead to a collection of 12 tonnes of paper from her building in Abu Shagara.

After the success of the first campaign, Arushi charted an energy saving plan for her building.

"I requested the residents to switch off lights in the corridors between 10pm and 5am, when there's minimal movement of people, and switch on dimmers instead. These helped bring about savings of Dh1,650 per month." She added that these may not be a huge amount, but she stresses that every bit counts.

The Sharjah resident has also been teaming up with workers, and encouraging them to do their bit for the environment. "I conducted talks with workers, and educated them about the importance of recycling goods. I even got them to collect waste cartons from their work and organised Bee'ah to send it for recycling."

Arushi was recently felicitated at the Indian Embassy in Abu Dhabi by Neeta Bhushan, Deputy Chief of Mission and Head of Chancery, Indian Embassy and wife of Consul General of India Anurag Bhushan.

She admits that her parents have been a great source of encouragement and motivation for her.

Last year, Arushi won the Sheikh Hamdan Award for distinguished student, among many other accolades. The recognition has helped Arushi immensely in her journey, and she now hopes to design furniture out of recycled goods.

"I designed two sturdy tables, one made out of used or discarded car tyres, and the other using cycle rims, and both are a hit. While you would pay Dh700 for a wooden table, I made two tables for Dh40 each," she announces.

Now, Arushi wishes to use rejected wooden pallets from factories to build furniture. "It is my dream to create furniture out of recycled materials, and want to encourage more people to recognise the benefits of recycling.
Follow Emirates 24|7 on Google News.