Sinkhole in Dubai community… what caused it?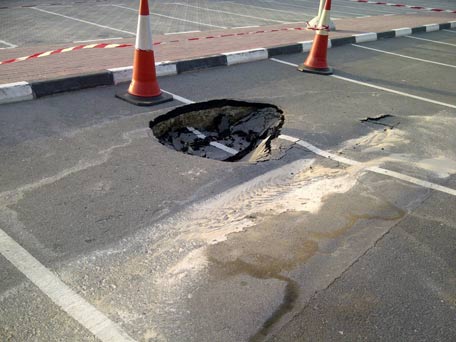 A sinkhole has appeared on a parking bay in the Zen cluster of Discovery Gardens.

Residents say the sinkhole was formed about a week back after a heavy vehicle that was parked at the site left.


"There was a heavy vehicle parked here. When it reversed, the asphalt just collapsed, leading to a sinkhole," a resident of Discovery Gardens told Emirates 24|7.

"Nakheel security staff said they have informed their office and it will be repaired soon," the resident said.
Nakheel, the master developer for Discovery Gardens, in a statement sent to Emirates 24/7, said the incident occurred due to a leakage in the main irrigation pipe.
"We apologise for any inconvenience caused by this incident, which occurred after a leakage in the main irrigation pipe. The area has been cordoned off for safety. Our contractor has been mobilised and will begin repairs as soon the relevant authorities have given approval," the developer said.

In December 2013, a section of a road had collapsed under the weight of a truck on Palm Jumeirah.

"This incident involved a Dewa contractor. We are waiting for an incident report from the contractor. However, we would like to assure the public that the area has been made safe," Nakheel had said.
Follow Emirates 24|7 on Google News.