Skydiver who died had done over 700 dives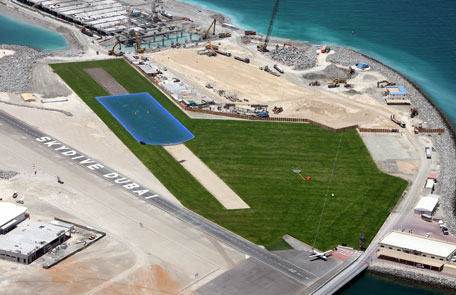 Latest: The skydiver who was killed was a "professional and experienced" skydiver with around 700 dives to his credit, according to an official source with Dubai Police, which is investogating the incident.
"The initial investigation showed there was a problem in the opening of the parachute," said the source.
No responsibility lies with Skydive Dubai as each diver has to sign a liability waiver before the jump, the source added.
He said it is possible that after the investigation is over and results of the findings are studied, Dubai Police might recommend some improvements to ensure higher safety.
Skydive Statement: "We are saddened to confirm the passing of a member of the skydiving community.
"Our safety investigators and the Dubai Police are currently investigating the incident, and it would be inappropriate to comment further at this stage. The extended family is being notified and we request that the privacy of the family be respected at this difficult time," a spokesperson with Skydive Dubai said in a statement.
New laws
Regulations to ensure safety skydiving will be issued within the next few months, Yousef Al Hamadi, Head of the UAE Air-Sports Federation (EAF) and Deputy Chairman of the organising Committee of Dubai's parachuting games, told 'Al Ittihad'.
Al Hamadi said there is a special committee comprising concerned bodies that is putting the finishing touches on laws for sports involving parachuting.
Al Hamadi made the statements after the accident that led to the death of the Saudi parachutist Majid bin Saleh. Dubai Police have denied any criminal suspicion.
Al-Hammadi said that 90 per cent of accidents occurring with parachutists are due to over-confidence, which leads to neglect of the necessary actions.
Saudi skydiver dead
A Saudi skydiver has died after his parachute failed to open during a skydive in Dubai on Wednesday morning, local dailies reported.

The report cites a police official as saying that the deceased, identified as Majid Al Shuaibi, died on impact with the ground.

Al Shuaibi's brother Thamer was quoted as saying that his brother was a seasoned skydiver who participated in Saudi and international events.

Dubai Police have launched an investigation into the crash. This body will be airlifted to Jeddah.
Follow Emirates 24|7 on Google News.