Stop Sympathising: UAE cracks down on Ramadan begging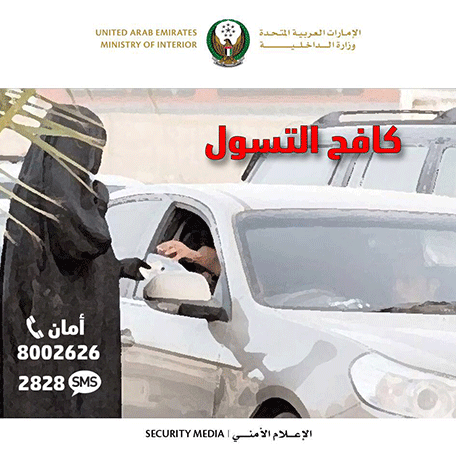 Abu Dhabi authorities are appealing to UAE residents to stop sympathising with beggars and start reporting sightings to the police, in the lead up to the month of Ramadan.
The fasting month historically records an influx of people arriving into the country as part of an elaborate con to raise funds, stated the UAE's Ministry of Interior.

The 'Fight Begging' campaign is 'aimed at stamping out this objectionable occurrence and boost security awareness amongst members of the public on the risks of sympathizing with beggars', MoI said in a statement.
Police teams and relevant security authorities at the countrywide level will be intensifying patrols and increasing their presence in public places.
These efforts will be complemented by a comprehensive awareness campaign implemented by the Security Media Department, at the General Secretariat of the Office of HH Deputy Prime Minister and Minister of Interior, via various media.
The campaign is based on an elaborate plan to address this societal scourge and promote the proper ways to eradicate it.
Lt. General Saif Abdullah Al Sha'far, Undersecretary at MoI reiterated the ministry's unrelenting commitment to combat this scourge that reflects negatively on the civilised image of the country.
"Begging opens the door for some people to indulge in various forms of dupery and fraud to seek alms from people, and exploiting their tendency for charitable work during this Month," he noted.
Adding further, Lt. General Al Sha'far said: "The concerned police entities are exerting significant efforts to combat this social affliction through crackdown campaigns and awareness initiatives designed to eradicate objectionable behaviors such as begging, which detracts from the civilised image of society and endangers community members as some beggars commit robberies under the guise of begging."
Lt. General Al Sha'far called upon community members to donate their money through the appropriate channels to support charity and humanitarian efforts during Ramadan.
He also stressed the need to address the various behaviors that tarnish the civilized image of the country, through a clear methodology and contemporary media message that keeps pace with the developments taking place in the country, in a bid to promote prevention efforts and contribute to establishing security and stability in society.
Major General Al Muhairi added that begging is an uncivilized nuisance and fighting it is a collective responsibility,
Abu Dhabi Police announced a series of preventive and awareness-raising procedures as part of the campaign aimed at eradicating the scourge of begging.
Police stations will intensify security patrols within residential areas and around buildings and villas to arrest any beggars.
The police also urged the public to cooperate with police patrols by reporting beggars, and encouraged them to reject all behaviors that may reflect negatively on the image of society and the country.
Major General Omair Muhammad Al Muhairi, Director General of Police Operations at Abu Dhabi Police, called upon the public to combat this affliction, which increases significantly during the month of Ramadan.
"Beggars resort to a variety of means and pretexts to generate people's sympathy and manipulate their emotions to swindle money from them, which is an illegal practice," explained Major General Al Muhairi.
Furthermore, he added, it opens the door for some people to engage in various forms of dupery and fraud to seek alms from people who sympathize with beggars.
Major General Al Muhairi warned the public against beggars' attempts to exploit the generosity and benevolent nature of people here.
"Some immoral people take begging as an occupation that threatens the security of society, as it could often be a prelude to commit petty crimes, such as robberies," he noted.
Major General Al Muhairi urged community members to donate their money according to the law and through the appropriate and official channels to support humanitarian efforts carried out under the auspices of the competent entities.
He continued: "The police and security authorities will show no leniency in enforcing the law and arresting beggars who will prosecuted by the competent judicial authorities according to the law."
The MoI's campaign will be supported by media efforts, which include intensifying awareness activities and messages through media outlets (TV, radio and print), and social media.
The MoI urges community members not to hesitate to report beggars in residential areas and buildings, by calling the police operations room on the emergency number 999 or the Aman service on 8002626 or by SMS to 2828.
Follow Emirates 24|7 on Google News.