Stunning Hamdan Dubai Metro photograph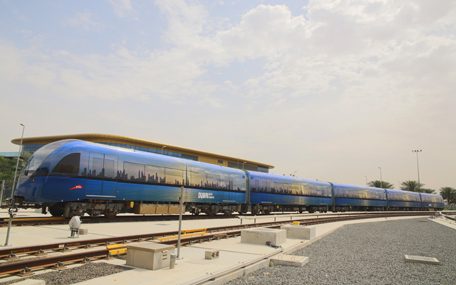 A stunning photographic work by Sheikh Hamdan bin Mohammed bin Rashid Al Maktoum, Dubai Crown Prince and Chairman of the Dubai Executive Council, now adorns a Dubai Metro carriage, celebrating the ongoing Dubai Art Season.

A stellar attraction of Dubai Art Season, the umbrella arts initiative by Dubai Culture & Arts Authority (Dubai Culture), the Dubai Metro carriage is already the talk of the city, and highlights the passion Sheikh Hamdan bin Mohammed has for photography.

Three other Dubai Metro carriages wrapped with works of art by Emirati and international artists will also roll out in the coming days.

The specially commissioned artworks are by eminent Emirati artist Abdulqader Al Rais, Algerian artist Rachid Koraichi and Syrian artist Safwan Dahoul.

Sheikh Hamdan bin Mohammed also toured the Fada'aat Exhibition organised by Dubai Culture at Art Dubai, which highlights six core themes - Fada'aat Islamiya featuring Islamic manuscripts; Fada'aat Eqtisadiya highlighting Islamic coins; Fada'aat Bahriya, focused on the UAE's maritime heritage; Fada'aat Faniya, which celebrates contemporary art; Fada'aat Photography, featuring an aesthetic collection of photographs depicting the UAE's history and heritage; and Fada'aat Ma'rifiya that puts the spotlight on Dubai's public library.

Sheikh Hamdan bin Mohammed was accompanied on the tour by Abdul Rahman Al Owais, UAE Minister of Health & Chairman of Dubai Culture, HE Mattar Al Tayer, Chairman of the Board & Executive Director of RTA and senior officials of Dubai Culture and RTA.

Abdul Rahman Al Owais said: "We are thankful to HH Sheikh Hamdan bin Mohammed bin Rashid Al Maktoum for the generous patronage extended to this initiative and the kind consent to use his photograph, a real work of art, for the first Dubai Metro carriage wrap.

"This project aims to take art closer to the community, and highlights the cultural soul of our city. We are also thankful to the Roads & Transport Authority for their support, especially as we mark the Dubai Art Season, welcoming artists and visitors from around the world."

The Fada'aat exhibition also complements the Dubai Metro Museum initiative. Dubai Culture and RTA are transforming six of the Dubai Metro stations into museums.
Follow Emirates 24|7 on Google News.