'Such events increase our resolve'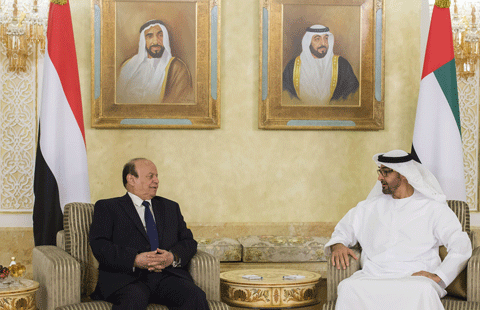 Sheikh Mohamed bin Zayed Al Nahyan, Crown Prince of Abu Dhabi and Deputy Supreme Commander of the UAE Armed Forces, received on Saturday evening, President of Yemen, Abd Rabbu Mansour Hadi, who is currently visiting the country to pay his respects to the Emirati martyrs, who fell while on national duty.

The President of Yemen conveyed his sincere condolences and expressed sympathy to the UAE over the Emirati martyrs who sacrificed their lives while defending Arab and Yemen brothers from repression and aggression. The martyrs were part of the Arab Coalition's 'Operation Restoring Hope' in Yemen.

Hadi conveyed to Sheikh Mohamed the condolences and solidarity of the government and people of Yemen with their Emirati brothers, saying, "This great historic stance is a paradigm shift, as it reflects cohesion and solidarity among Arabs at its best. This position will remain etched in the minds and hearts of the people of Yemen."

Sheikh Mohamed thanked President Hadi about his noble and fraternal feelings, stressing, "The UAE will remain committed to the Arab Coalition alongside Saudi Arabia to defend Yemen and the region until security, stability and peace are restored to sisterly Yemen."

He said the UAE is firm in its approach to extend a helping hand and support to Arab issues and safeguard the national Gulf and Arab security.

"Such events will not deter us from carrying out our fraternal and humanitarian duty towards our brothers, but they will increase our resolve and strength to achieve the security and humanitarian objectives in the region," Sheikh Mohamed affirmed.

He said, "Our armed forces heroes in the battlefields are more resolved and determined to liberate Yemen and flush out the scum after the tragic incident."

"We will not hesitate. We are with you until the mission is accomplished. Yemen is not your country alone, but we share common history with you. We pray to the Almighty Allah to bless our impending victory," Sheikh Mohamed said.

During the meeting, they reviewed the fraternal relations and joint co-operation between the two sisterly countries, as well as the latest developments on the Yemeni arena.

President Hadi thanked the President His Highness Sheikh Khalifa bin Zayed Al Nahyan for his humanitarian initiatives towards the people of Yemen and the humanitarian operations underway to help those affected. He cited the rehabilitation of vital facilities in Aden, especially health, education and social and public services.

The meeting was attended by Sheikh Abdullah bin Zayed Al Nahyan, Foreign Minister; Mohammed Mubarak Al Mazrouei, Under-Secretary at the Abu Dhabi Crown Prince's Court, and a number of officials.
Follow Emirates 24|7 on Google News.