Taxi fares to go up in Abu Dhabi from May 1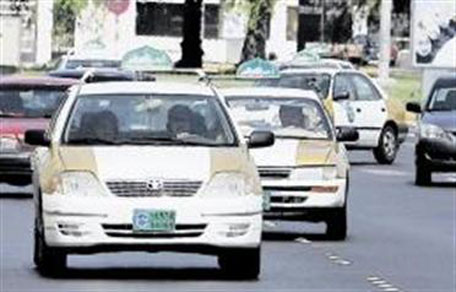 Taxi fares in Abu Dhabi will increase from next month, said a senior official on Thursday.
Mohammed Hussain Al Tosani, Director of TransAD Franchise and Licensing, the government taxi regulator, said the starting fare has been increased by 50 fils to Dh3.50 in the day; while stating night fare has been raised by 40 fils to Dh4. The day time fares are in effect from 6am to 10pm.
He told media that the tariff has been raised only for silver taxis in Abu Dhabi from May 1.
Al Hosani said the running meter charge will increase by 27 fils per kilometre in the day and 36 fils per kilometre during the night.
TransAD also set a minimum fare of Dh10 for the night travel which would help increase availability of taxis at night.
Passengers will have to shell out 50 fils per minute for waits of more than five minutes for waits in rush or any traffic jams.
Al Hosani said this decision was made after financial and analyses studies were conducted last year, also keeping in mind demand for taxis, service enhancements, drivers' working hours and wages.
He also revealed that retired and people with special needs will get half discount which will be subsidised by the Abu Dhabi government.
Thsi is the second hike by TransAD since the company was created nearly six years ago.
But company officials have earlier spoken of plans to raise fares because of costlier petrol, which has risen by at least 30 per cent in five years.
TransAd, a pool of several private sector transport firms, is managing a fleet of more than 7,000 sliver taxi cabs which replaced the while-and-yellow cars that had dominated Abu Dhabi transport services for decades.
The company was set up in 2006 to carry out a replacement plan under the Transport Department's supervision. It manages seven taxi operators, including Tawasul Transportation Company, Cars Taxi, National Transportation Company, Al Ghazal Transport, Q-Link Transport, Emirates Taxi and Arabia Taxi.
In 2010, TransAD decided to raise fares to Dh1 for every 750 metres covered against the former rate of Dh1 for every 1,000 metres. It said the increase was prompted by the recent fuel price hikes.
"This increase in fares is the minimum limit that allows the operating companies to maintain a profit margin…despite this rise, the taxi fares in Abu Dhabi are still below those in other UAE cities and other countries," it said in 2010.
"We approved that increase following complaints by the operating companies that they could suffer from losses because of the fuel price hike….this hike also means that drivers will now be able to make a reasonable income."
Follow Emirates 24|7 on Google News.