Traffic alert: Truck fire on Dubai-Al Ain highway put out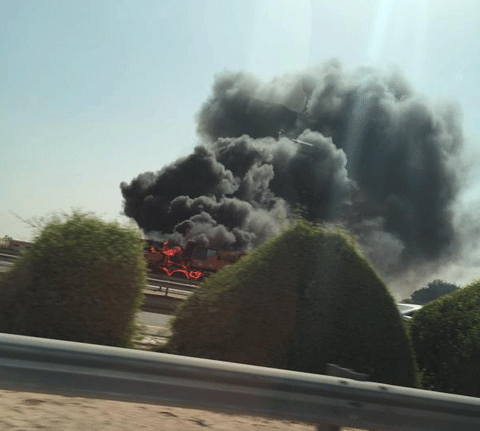 Update: The Dubai Civil Defence has confirmed no person was hurt or injured in the vehicle fire that brought traffic to a standstill on the Dubai-Al Ain road on Sunday morning.
A spokesperson for the Civil Defence stated: "We received a call reporting the fire at 8.50am, and Al Quoz Station responded within minutes to put out the blaze.
"The Civil Defence was able to get the fire under control within 15 minutes."
Describing the vehicle as a heavy construction transporter, the spokesperson further added: "The cause of fire is still under investigation, but no individual was injured in the blaze."
EARLIER:
A mobile crane truck was reported to be on fire on the Dubai-Al Ain Road at about 8.45am, with commuters being urged by eyewitnesses to avoid the stretch near Nad Al Sheba exit to make way for emergency vehicles.

Dubai Police and Civil Defence crews are on the scene battling the blaze, with eyewitness Yasmin posting on Twitter: "A truck is on fire at the exit of Al Ain road and Bukadra toward Dubai."

At 9.30am, an eyewitness told 'Emirates24|7' that Nad Al Sheba exit from the Dubai-Al Ain Road appeared to be blocked, with traffic at complete standstill.
A picture of fire posted on Twitter by NaNo. (Supplied)

Also, the incoming traffic from Al Aweer's Fruit and Vegetables Market and Ras Al Khor into Nad Al Sheba appeared to be blocked at the time, according to an eyewitness.

The commuter on the E66 added: "The blaze erupted around 8.45am, with traffic gradually building up on both sides of the highway, even though the vehicle is on the side heading into Dubai.

"Some police and Civil Defence crews are on the scene while more [official] vehicles were attempting to weave through traffic. Commuters are advised to look for alternative routes or move to the side to allow emergency crew to pass."

It is unclear if anyone is injured in the blaze.

A statement from Dubai Civil Defence is awaited.
Commuters saw Civil Defence spraying the crane truck dousing the flames. It has been pulled ot the side of the road.
Dubai Police were on the scene directing traffic.
Follow Emirates 24|7 on Google News.