Two vehicles catch fire in Sharjah residential tower car park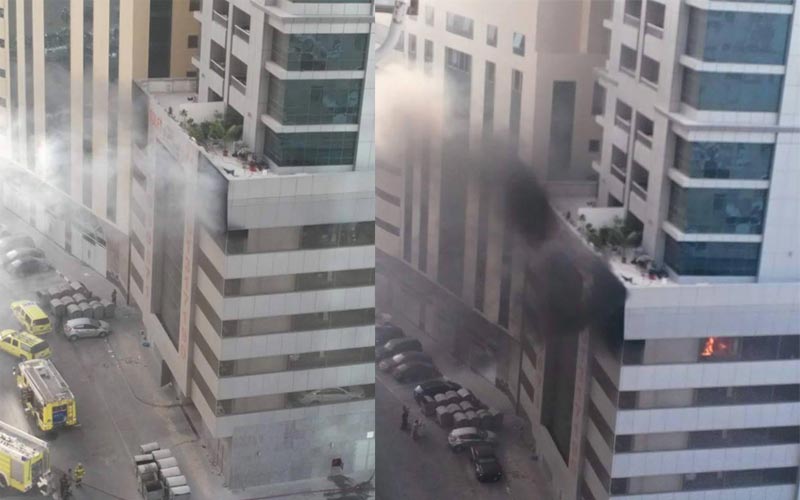 Two vehicles caught fire in covered car park in a residential tower in Sharjah on Tuesday morning.
Sharjah Civil Defence confirmed the incident, stating the blaze erupted in Al Kindi building in Al Nahda, at 6.30am.
The Civil Defence representative stated: "There were two vehicles that caught fire in Al Kindi building in Sharjah this morning. Civil Defence teams arrived on the scene shortly and brought the blaze under control.
Image: Shashank Sharma

"No injuries were sustained in the blaze. The matter is yet under investigation to determine the cause of the fire."
Eyewitness Jilianne Santos spoke to 'Emirates24|7', saying: "It was around 6.40am and I had just stepped out of my building when I noticed the smoke.
"I could see a lot of people on the street at the time, with firefighters already on the scene. It was within a few minutes when I heard a loud bang and smoke billowing further out of a residential tower."
Another eyewitness stated the blaze started in the covered car park of Al Kindi, in one of the upper floors.
Residents of the building were immediately evacuated as the fire was brought under control by authorities.
This is third vehicle blaze reported in the UAE over past 10 days, with two separate incidences of Lamborghinis catching fire – one earlier this week on Al Garhoud Bridge.
A second such fire was reported last week, when a video emerged on Liveleak that showed a Dh1.43 million Lamborghini Aventador going up in flames in Dubai.
The video shows a man using a fire extinguisher to put out the fire engulfing the yellow coloured supercar; the footage later shows that a Civil Defence team on the scene extinguishing the blaze.
The video, according to the uploader, was filmed by a Russian tourist on his mobile phone and posted on his Instagram page.
The reason for both fires is not known.
Follow Emirates 24|7 on Google News.