UAE fog: Low visibility results in traffic jams, flight delays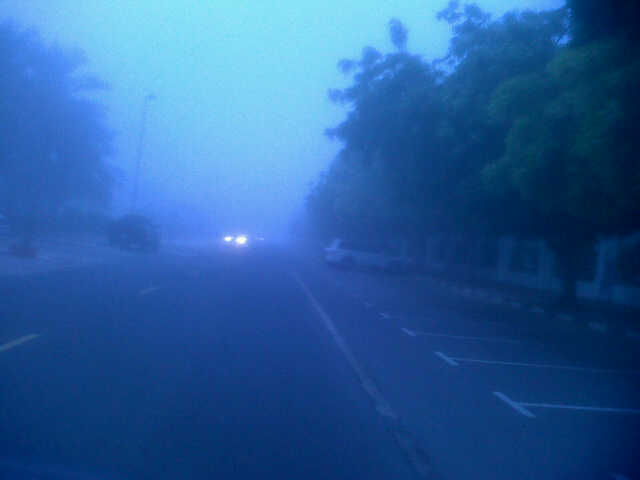 Sunday morning's fog wreaked havoc on commuters across the UAE, as minor accidents and major traffic jams were reported across the country.
An accident in Jebel Ali, another in Samah Bridge Abu Dhabi and a stalled car on Al Wasl Road added to the slow moving traffic conditions that some commuters said have turned the Sharjah Ring Road, Beirut Street and the Airport Tunnel into a "parking lot".
Liana Khalaf also took to Twitter to report on rubberneckers that were adding to the Jebel Ali commuting chaos amidst the traffic and the foggy conditions.
Meanwhile, an eyewitness reported on the stalled car on Al Wasl Road, saying: "The car, a silver hatchback, appears to have broken down opposite to the Iranian Hospital, right before the traffic light.
"Cars were backing up as I passed by, but this could get worse because the fog was making it difficult for us to see this car is parked in the middle of the lane until you are almost upon it."
Meanwhile, reports have also come in of several flight delays and diversions at Dubai Airport.
Chetan Rao tweeted: "Riyadh bound for a week of client workshops – however still on tarmac at Dubai. Upto three hours delay due to fog."
A statement from Dubai Airports is awaited.

Earlier this morning, heavy fog enveloped several parts of Dubai leaving early morning motorists having to deal with reduced visibility on the roads.
There was no fog forecast and this caught motorists unawares as the National Centre for Meterology and Seismology (NCMS) stuck to its fair weather in general forecast for the day.
The good thing was that it kept temperatures down considering we are approaching mid-May in the UAE. Many motorists were seen driving with the windowns down till late morning, taking advantage of the 'cool' breeze.
Slight to moderate winds in general with relative humidity increasing is also on the cards.
Temperatures are set to rise according to the NCMS, especially over the western areas.
Maximum temperatures for the day are forecast to be between 34 deg C on the coast to 40 deg C inland.
ALSO READ:

Access to swimming pools in Discovery Gardens to be restricted



Dubai ranked among the world's top 10 best skylines



Emirati child with brain tumour saved
Follow Emirates 24|7 on Google News.