UAE home to three tallest towers of 2013… click here to read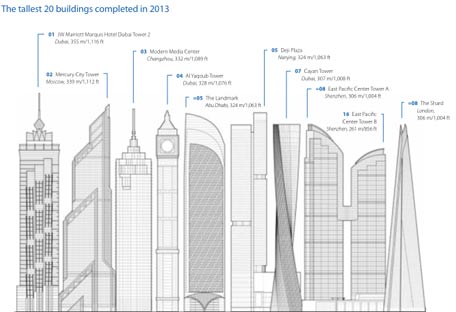 Three of the world's five tallest buildings completed in 2013 were located in the UAE, led by JW Marriott Marquis Hotel Dubai Tower ,2 the Council on Tall Buildings and Urban Habitat (CTBUH) report reveals.

The other two towers making it to the list are 328-metre Al Yaqoub Tower in Dubai and 324-metre The Landmark in Abu Dhabi.

The council stated the UAE remained a dominant player in completion of 200-metre plus tower in 2013, with the number rising from five to 10, second only to China.

Dubai and Abu Dhabi continued apace in 2013, each completing five 200-metre-plus buildings.

Dubai has been in the top five cities for tall-building completion since 2008 (when it was number one, a feat it repeated in 2010). Abu Dhabi has only once jumped Dubai's rank, jumping to number three in 2011 when the latter slipped to fifth place.
JW Marriott

Last year, Dubai also laid claim to the title of the "world's tallest twisting tower" — a category though not maintained by the council, but impressive nonetheless — with the 307-metre Cayan Tower. (Read World's tallest twisted tower in Dubai has its own airspace).

In the coming years, state-owned Dubai Multi Commodities Centre (DMCC) will build Burj 2020, the world's tallest commercial tower, plans for which have been unveiled.

Read: Burj 2020 will be completed on time: Ahmed bin Sulayem

Abu Dhabi completed The Gate, the four towers connected by a sky bridge, which was selected as a finalist in the Best Tall Buildings Middle East category by the CTBUH Awards Jury.

Year 2013, CTBUH said, was the second-most successful year ever, in terms of 200-metre-plus building completion, with 73 buildings of 200 metres or greater height completed.

From 2000 to 2013, the total number of 200-metre-plus buildings in existence increased from 261 to 830 – an astounding 318 per cent.

"From this point of view, we can more confidently estimate that the slight slowdown of 2012, which recorded 69 completions after 2011's record 81 – was a "blip," and that 2013 was more representative of the general upward trend."

For the fourth year running, nine supertalls were again completed in 2013. These 36 supertalls, built over the last four years, comprise nearly half the total number of supertalls that now exist (77).

The sum of all the 200 plus metre buildings completed in 2013 was 17,662 metres, the second-tallest year in history, after 2011

China, for the sixth year in a row, completed the most 200m+ buildings of any country in the world; the 37 buildings in China were spread across 22 cities

Europe saw completion of two of the 10 tallest buildings for the first time since 1953.

No megatall (600-plus metres) were completed, but nine supertall (300-plus-metres) buildings were finished in 2013, (against one megatall and nine supertalls in 2012).

More towers in 2014

In 2014, CTBUH predicts that between 65 and 90 buildings of 200 metres or more will complete.

"This year will no doubt be an exciting one, and a year of continued growth. Here is some of what's in store," the report said.

Up to 13 of the scheduled completions in 2014 will be supertalls (300 metres or higher). Twisting towers will continue to enter the vanguard of tall in 2014 – the KKR2 Tower of Kuala Lumpur, Malaysia and the Spine Tower of Istanbul, Turkey, lead the list.

A typically curvaceous Zaha Hadid-designed tower, the Wangjing SOHO T1, will complete in Beijing, China this year. The 632-metre Shanghai Tower, originally set to complete in 2014, will boast the world's fastest elevators, as well as innovative use of double skins and sky lobbies.
Follow Emirates 24|7 on Google News.