UAE inventor rides 'Smart Saddle' to top prize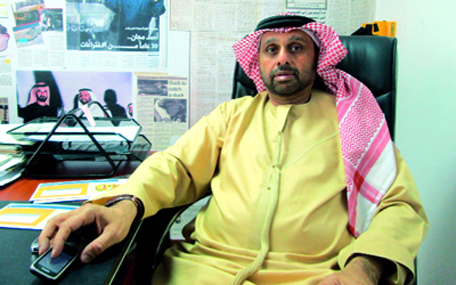 UAE inventor Ahmed Majan won four medals for his latest inventions at the 43rd International Exhibition of Inventions, which concluded yesterday in Geneva.

The fair is recognised as the world's most important market place for exhibitors from 45 different countries.

Majan said he presented five inventions, three of them new, in the tough competition from around 1,000 inventors and producers from across the world.

Two of his innovative creations - the 'smart saddle', which was displayed for the first time, and a GPS for tracking a solar-powered bicycle, scooped gold medals.
The smart saddle comes with solar-powered electronic devices that measure the horse's heart rate and the weight of the rider.
It also has a compass, a location tracker and a cooler to bring down the body temperature of the horse in hot weather or during movement.
There is also a hidden camera to keep track of movement and a light-signalling device that can work in darkness,
Majan also won two silver medals for his remote control device for fishing nets and a smart duck trap, winning the highest number of accolades that an individual could harvest.

The Emirati inventor dedicated the landmark achievements to President His Highness Sheikh Khalifa bin Zayed Al Nahyan and His Highness Sheikh Mohammed bin Rashid Al Maktoum, Vice-President and Prime Minister of the UAE and Ruler of Dubai, and other UAE leaders.

''Support and encouragement come from our visionary leaders. His Highness Sheikh Mohammed bin Rashid, often leads us to achieve the top position and provides the key to excellence,'' Majan said, adding that his participation at the exhibition was aimed at proving the UAE's merit at the top rank and raising the country's flag aloft at this international invention forum.

He also praised Sheikh Hamdan bin Mohammed bin Rashid Al Maktoum, Crown Prince of Dubai, for his continued encouragement and unwavering support for his career towards innovation and invention.

The UAE Permanent Representative to the UN and other International Organisations in Geneva, Obaid Salem Al Zaabi, said Majan's participation at the Geneva exhibition of inventions reflected the bright image that the citizen has achieved in areas of innovation and invention.

The UAE, he added, always encourages innovations that serve the humanity.

Majan has also received special citation from the Chinese Innovation and Invention Society for having invented the 'smart saddle'.

Spanish inventors honoured Majan during their visit to the UAE pavilion at the exhibition.

Follow Emirates 24|7 on Google News.