UAE sees increase in seismic activity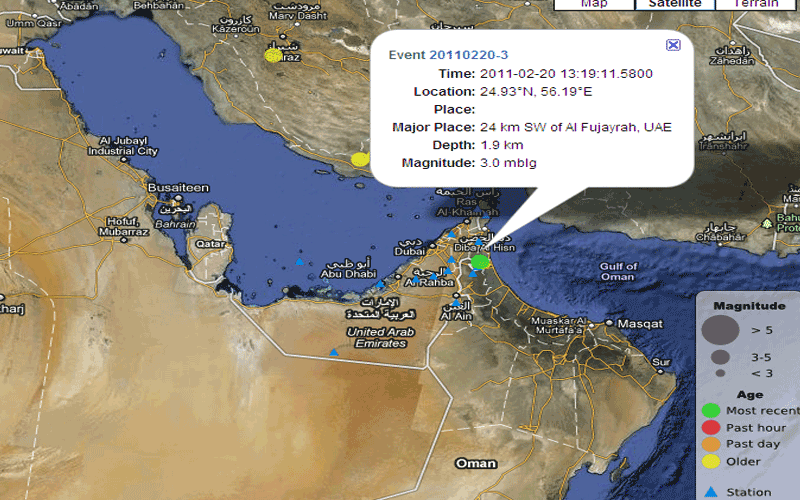 A low intensity earthquake rattled the residents of Fujairah and its adjacent areas on Sunday morning.
Though the earthquake was minor - measuring 2.6 on the Richter scale - seismologists said they have been recording seismic activity in the Northern Emirates close to Fujairah over last couple of months.
According to the National Centre of Meteorology and Seismology (NCMS) last month several minor earthquakes hit the area, but all of them were of insignificant magnitude.
The NCMS said the epicentre of the earthquake was some 23 kilometres away in the south of Fujairah near Wahala and it occurred just 8.3 kilometres beneath the earth surface.
Some residents of the area also heard weird sounds just before and after the jolts. According to the NCMS the tremor hit the area at around 9:30am on Sunday morning. "This was a normal and minor seismic activity. People should not be worry about it. Residents felt the tremors, but there was no loss or damage," said a seismic expert.
On February two earthquakes had hit the UAE, one in Fujairah and another in Hatta.
The first this series of earthquakes hit the area on February 7. It was of magnitude 2.5 on the Richter scale and its epicentre was some 26km in the south of Fujairah.
On January 19, tremors from a magnitude 7.1 earthquake in Pakistan were felt across the UAE.
The UAE, which is located close to one of the world major earthquake zone in Iran, has some fault zones in the Northern Emirates.
Follow Emirates 24|7 on Google News.