UAE students step out to help build homes in Brazil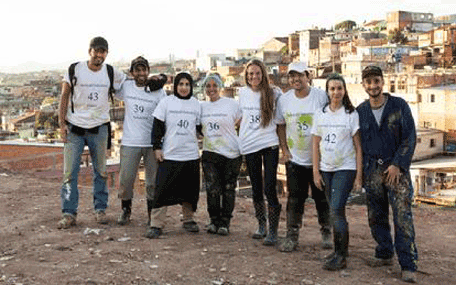 Scoring good grades, scouting for good jobs, or spending time with friends over coffee and football are some of the things that most 20-year-olds do, but there are exceptions to the rule.
Some like Kiko Hindash, Geraldine Hafez and Mohamed Al Sharban believe it's just as important to step out of their sheltered life to do something constructive to improve someone else's life.
True to their belief, the three students from UAE were part of a nine-member group that travelled to Brazil and help build six low-cost houses in Favelas, near Sao Paulo.
Although they had never been to that part of the world, nor spoke their language, it didn't stop them from undertaking such a noble initiative.
In fact, during their nine-day project, put together by volunteering group Monyati Initiative, the group stayed in a local school and shadowed a family and helped rebuild their homes.
Twenty-five-year-old Emirati student Mohamed, from Masdar Institute of Science and Technology, was ecstatic about embarking on this life-altering journey.
He informs that it allowed him an opportunity to interact with people from different nationalities and backgrounds, and to travel to a place where he had never been before.
"The fact that we stayed in a school and lived with 50 Brazilian volunteers was exciting by itself. It was a completely new and different environment for all of us. Everything is different… the water resources are limited and the weather freezing.
"It was nice to be in a direct involvement with the local people, who tended to be shy and conservative at the beginning, but later opened up and started considering us as a part of their family."
Apart from the environment and cultural differences, the language also proved to be barrier, but not for long.
"Although I don't speak Portuguese, and they don't speak English, we were able to develop a unique bond," adds Mohamed.
The family he assisted consisted of four members – a mother and three children, and he observed that despite the shocking environment they lived in, "they were all happy".
Egyptian-born Geraldine's reasons to join the initiative meant meeting both her interests – architect and philanthropy.
"I've always wanted to be involved in a humanitarian project like this, and the fact that it was in Brazil was even more fascinating."
Detailing about the work, Geraldine described how they were divided into two groups, and with the help of other Teto voluneters, each was given the task of completing one house in three days.
"I was involved in the construction process from start to finish, initiating with meeting the families and bonding with them, marking the pile column locations, digging, pushing down the piles, putting the floors down, walls up, putting together the windows and doors and finally the roof and painting the house.
"It was a long exhausting process, but completely worth it. The piling was the most tiresome part of the process as most of the time, there were complications with the site, but once that was over, it all went smoothly."
And, that wasn't all. "Early in the mornings after breakfast we had to load and unload the trucks that carried construction materials, and during the evenings, after dinner, there were group activities that involved the favela families involved and internal reflection sessions."
Apart from the freezing cold, the food was something they had to get accustomed to.
"We couldn't shower for seven days!!! That was really difficult. But, after a long day within the favelas, constructing and interacting with the families, we were glad to be back at the school, wash up, have dinner and socialize with our volunteer friends, and reflect on the day," adds Geraldine.
The experience has changed her immensely. "We often forget how lucky we are, and belittle the value of the basic necessities that we have a surplus of, especially here in Dubai. Seeing how these impoverished communities constantly struggle to make ends me has made me appreciate the little things that I have, and encouraged me to pursue a career in the humanitarian field."
The exercise also taught Palestinian-born Kiko similar life-changing experiences. "It's so easy to get sucked into a selfish materialistic lifestyle. Most of us lead such comfortable lives in Dubai, we don't see the harsh realities of so many people around the world."
Kiko, who used to regularly monitor the work undertaken by Monyati Initiatives, took up the Brazilian project as he wanted to put his education to good use.
"I study development of developing countries so I also wanted to apply a lot of what I learnt in real life situations."
Although he had read up about favelas and its deteriorating conditions, he was completely unprepared to witness such a beautiful landscape.
Volunteering work, the trio, believes, is essential in the overall development of a student.
"I highly recommend such voluntary activities for my fellow Emiratis. It is a great chance that was provided by Monyati Initiatives," insists Mohamed.
For now, they hope for more opportunities like this to come their way.
"Yes, it was a raw and sometimes physically and emotionally difficult, we were tired, cold, covered in mud, sweat and dirt but I enjoyed it and would do it again in a heartbeat," explains Kiko.
"Nothing can measure up to the immense joy of the families once we handed over the houses to them. It was that joy and the idea that they now have a spacious, stable home that made it all worthwhile," explains Geraldine.
Talking about the hurdles along the way, Kiko adds, "We slept on the classroom floor on inflatable mattresses. And we had basic food, mostly rice and beans which was cooked by the families. We ate with them every day but breakfast and dinner was served in the school.
"The Brazilians are very welcoming and warm, so they made us feel at home."
All three concede that the toughest part of the trip was not the climate or the food, or even the language, but the final goodbyes.
"It was tough not to get attached to the families," recalls Kiko, with Geraldine adding, "I often think of the days I've spent with them and wish I can go back and visit them."
Follow Emirates 24|7 on Google News.