UAE weather: Hazy, cloudy skies and low visibility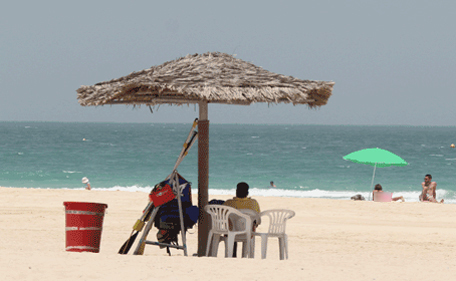 Latest: The national weather bureau forecasts hazy and partly cloudy skies in some areas of the UAE on Sunday.
NCMS warns of reduced horizontal visibility over scattered areas due to rising dust by fresh northwesterly winds continuing to affect the country.

The sea will be rough in the Arabian Gulf and moderate to rough at time in Oman Sea.
Meanwhile, the lowest temperature recorded over the country on Saturday morning was 17.6°C in Raknah.

And the highest temperature recorded was 43.4°C in Swiehan and Fujairah Airport.

Winds raise dust, cut visibility near Maktoum Airport
Blowing winds have raised dust and reduced visibility near Maktoum Airport and in Fujairah, the NCMS has tweeted.
National Center of Meteorology and Seismology (NCMS) has advised sea-goers not to venture into sea for at least the next three days, starting Saturday, due to rough weather.

In a statement issued on Friday, the Centre predicted hazy weather in general, partly cloudy over some areas at times, along with moderate winds on Saturday morning.

"The fresh north-westerly winds will start over the western areas by afternoon, then extend gradually to the rest of the country, causing blowing up dust and dust-in suspension, reducing horizontal visibility specifically over western region. This will be associated with drop in temperatures, with significant drop in temperatures by Sunday over some areas.

"Sea will be rough to very rough in Arabian Gulf and Moderate to rough at times in Oman Sea. This North Westerly winds will gradually slow down by Monday afternoon."

NCMS warned of surfing during this period "because of their roughness and advising to take precaution on roads due to poor visibility by blowing dust and dust- in suspension especially over the western areas."

Follow Emirates 24|7 on Google News.