Village of 700 say their houses will collapse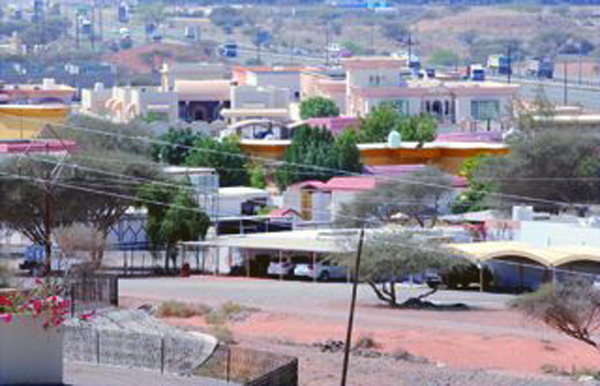 In a quiet area sandwiched between Fujeirah and Ras Al-Khaimah, Alhinniya village of nearly 700 UAE citizens has long enjoyed the beauty of nature and the serenity of an oasis that defies the cruelty of the barren desert. But such a feeling has been replaced by fears that its houses could collapse at any time.
Large blocks of cement are already falling off the roofs of the village's houses and its worried residents believe its time that something is urgently done to end their ordeal.
Most of the houses are at least 39 years old and it is now a matter of time before the whole structures start faltering and collapsing.
Alhinniya, part of Fujeirah emirate, is located around 72 km of Fujeirah city and 25 km south of Dhaid. The tiny village is surrounded by A-Manama area in Ajman, and Ghail and Azan in Ras Al-Khaimah.
"The residents now want the UAE authorities to seriously consider their ordeal and take measures to tackle this problem…large cement blocks are falling off their roofs and threatening their lives but they say they have no where else to go because of their limited financial resources," the semi official Arabic language newspaper Alittihad said in a report from the village.
"There is a serious shortage of houses and there is a pressing need to maintain and rehabilitate faltering houses in the village…the residents have calling on authorities for years to act and they are still waiting."
Sliced into two parts, Alhinniya has around 87 houses including 11 in the old part, called Rumaila, and 76 in Alhinniya Aljadida (new). Many of its people have taken up government jobs and abandoned sheep raising and farming.
"We are facing a major problem here, which is the lack of sufficient houses for citizens as there have been no new houses for nearly eight years," said Dhawi Rashid Al Tunaiji, a resident of Alhinniya.
"Currently, there are plans to build eight new houses as part of Sheikh Zayed Housing project…most of the other houses in the village and very old and faltering…they have been constructed since the establishment of the UAE federation (1971) and they now are in urgent need for replacement or comprehensive rehabilitation…otherwise, they may collapse on our heads."
Dhawi said he had prepared a file about the poor condition of houses in the village and presented it to the Fujeirah government.
"We are still waiting for a reply…but we also have another problem, which is that there is no clinic in the village…we are forced to seek treatment outside the village although we sometimes face emergency cases."
Alittihad quoted another resident, Khalifa Mohammed Salim, as saying his family of 28 members are crammed in one house comprising four rooms.
"I applied for another house eight years ago but I have received no response although the family is growing as some of my sons are married."
Saeed Salim bin Hamayed said he suffered from the same problem, with his 27-member family living in an old small house.
"My house has become too old and I have applied for a new house or repair but received no reply yet," said Ghalib bin Hamad Al-Hafri. "I myself carried out maintenance of the house six years but it is of no use now as the house is becoming too old and could collapse any time."
Follow Emirates 24|7 on Google News.