What Tom Cruise saw in Dubai: Ultimate 360-degree view from top of Burj Khalifa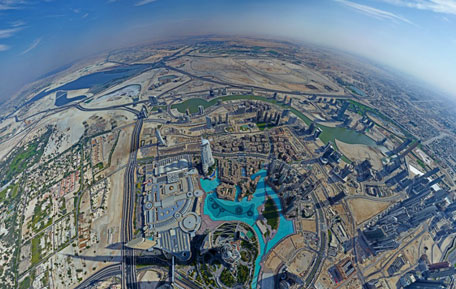 Only Tom Cruise has enjoyed this view.
That was when he was perched right on top of the world's tallest building - Burj Khalifa filming for 'Mission Impossible 4: Ghost Protocol'.
Now, you can enjoy it too.
This 360-degree panoramic view is composed from over 70 individual photos taken from the very top of Burj Khalifa.
Released by Emaar Properties the image shows the view across the city of Dubai from 828-metres above sea level captured in high resolution using some of the most advanced techniques in digital photography.
The image has been released to celebrate the second Hamdan Bin Mohammed Bin Rashid Al Maktoum Photography Award (HIPA), which will take place in Dubai in March. The award, the world's richest photography award, will see prizes totalling $389,000 and attracts entrants from 121 countries. The grand prize awarded by HIPA is $120,000.
"This is an extraordinary image taken from an extraordinary location. It reflects the goals of HIPA, to extend the boundaries of photography and celebrate images of unusual beauty and quality that are truly outstanding," said Ali bin Thalith, the General Secretary of the award.
Dubai based photographer Gerald Donovan created the shot using a mechanised panoramic tripod head to take a series of 48 panoramic images, each shot at a resolution of 80 megapixels.
These were then stitched together with manually shot images to 'fill-in' gaps caused by equipment installed at the top of the tower such as the lightning conductor and aircraft beacons. The result is an image that can be zoomed, tilted and rotated, giving viewers a sense of how it must feel to sit atop the world's highest building.
The top of the Burj Khalifa is more than 200 metres above the highest point reached by the building's elevators, which reach the 160th floor at speeds of some 10 metres per second.
The tower's public observation deck, At the top, Burj Khalifa is on the 124th floor. The journey to the pinnacle involves a steep ladder climb within the 200-metre spire that crowns the building.
Check the interactive image HERE
ALSO READ:
Abu Dhabi Crown Prince sits by roadside with 'lost' school-girl till dad comes to pick her up
Follow Emirates 24|7 on Google News.