Which are 4 top attractions to watch out for in Dubai in 2016?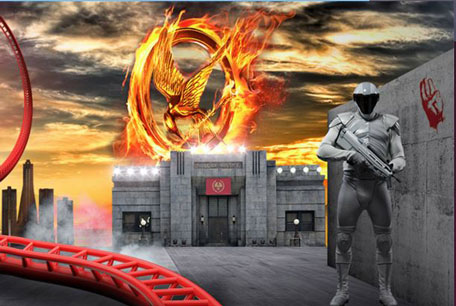 Year 2016 will herald four new attractions for resident and tourists to the UAE, with the Dubai Frame and the Dubai theme parks garnering world attention.

International news dailies such as The Telegraph and Los Angeles Times have mentioned the above two destinations among global attractions.

Below is the detail about the project and the expected ticket prices.

# Dubai Frame

(Supplied)

The Dubai Frame is 75 per cent complete and will be completed in 2016, separate tweets by Dubai Municipality and Dubai Media Office read.

Hussain Nasser Lootah, Director General, Dubai Municipality had told Emirates24|7 earlier that reported they were aiming to make Dubai Frame the number one tourist attraction globally.

In January 2015, The Telegraph, a UK-based newspaper, listed Dubai Frame among the world's best new attractions.
(Courtesy: Dubai Media Office)

The location of the giant rectangular frame is Zabeel Park and will offer give visitors the best view of both old and new Dubai. The project comprises a 150-metre-high, 93-metre-wide structure being built to resemble a huge picture frame, through which landmarks representing modern Dubai such as Emirates Towers and Burj Khalifa can be seen on one side, while from the other side, visitors can view older parts of the city such as Deira, Umm Harare and Karama.

Ticket price has not been released.
Read: Dubai Frame to be among top global attractions

# Dubai Parks and Resorts



(Supplied)

In October 2016, Dubai will open the doors of the region's first theme parks: ­Motiongate Dubai, Legoland Dubai and Bollywood Parks Dubai.

In fact, "Los Angeles Times", a US-based daily, has named the "Hunger Games" attraction at Lionsgate at Motiongate and Legoland among the 32 best new theme park additions of 2016.


In its third quarter investor call, Dubai Parks and Resorts Chief Executive Officer Raed Al Nuaimi said they will hand over the three parks and the Polynesian-themed hotel, covering an area of 25 million square feet, in phases, with Rajmahal Theatre in Bollywood Park to be handed over early next year to the operators.

In November 2015, the company said 11,000 workers and 34 contractors were currently on site. The power substation is already operational and under the control of Dubai Electricity and Water Authority.

Emirates24|7 reported the expected cost of tickets for the theme parks range from Dh245 to Dh330 a day.
Read: Spend a day with Shah Rukh, Salman and Aamir Khan in Dubai for Dh285

# IMG Worlds of Adventure
(Supplied)

IMG Worlds of Adventure, covering an area in excess of 1.5 million square feet and slated to be the world's largest indoor theme park, will open early 2016,

IMG Theme Park, the owner, has finalized ticket price for all of the theme park's rides and attractions at Dh300 per person.
(Supplied)

The four zones comprise Cartoon Network, Marvel, IMG Boulevard and the Lost Valley - Dinosaur Adventure. Besides, it will have 25 retail and 28 food and beverage outlets, all operated by IMG Theme Park and a 12-screen Novo Cinemas.

The theme park will have a capacity to accommodate 20,000 visitors per day as it expects to attract 4.5 million visitors during the first full year of operations.

# Dubai Safari



(Supplied)

Dubai Safari, being constructed opposite Dragon Mart, is expected to be opened in 2016. More than a 1,000 animals will find a new home in the 119 hectare plot, which is said to boast high-end facilities for both the animals and the visitor. It will consist of a Safari village, Arabian Village, Asian Village and African Village, Butterfly Park, botanical garden, resort besides educational and veterinary facilities. Ticket price has not been disclosed.
Follow Emirates 24|7 on Google News.