Which Dubai waterpark one of world's Top 5? (And best in Mideast)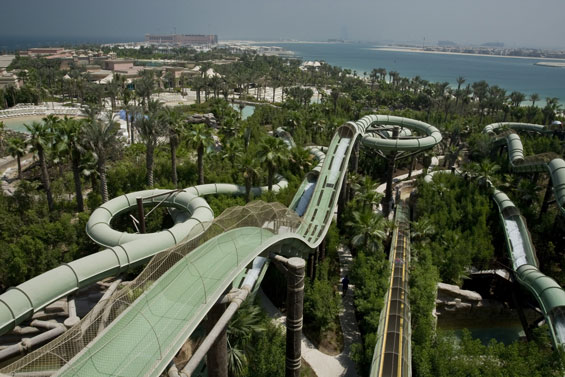 With school holidays in mid-flow, families can experience one of the top waterpark attractions in the world, without even having to leave the UAE.

Aquaventure at Atlantis, The Palm, has been voted the best waterpark in the Middle East and the fifth best in the world, in the TripAdvisor Travellers' Choice Waterparks Awards.

The influential travel site this week announced the accolade is based on millions of traveller reviews.

The 17-hectare beachfront waterpark, situated on the apex of The Palm's crescent boasts two enormous towers packed with rides including the world's largest diameter slide, the world's first vertical banking family ride with a double hump at the end, the first double slide within a slide experience, the world's first known zipline circuit to be integrated into a waterpark tower and unique marine animal interactions with rays and sharks.

Within Dubai, it's Aquaventure that takes the lead with more TripAdvisor Travellers' Choice Awards for waterparks than any other waterpark in the country.

The TripAdvisor report features more than 1,000 photos taken by happy Aquaventure visitors, along with thousands of positive reviews, which refer to the park in glowing terms due to the vast range of exhilarating rides available to suit all of the family, no matter the age or thrill level desired.

Scott. Deisley, Vice-President of Operations at Aquaventure, said: "We are thrilled that this excellent ranking by Trip Advisor endorses Aquaventure's global standing, especially as it comes from thousands of happy guests that have passed through our door. We thank each and every person that has taken the time to share their amazing experience with us."

The high rating comes on the heels of Atlantis' investment of around US$ 27 million whereby a second 40-meter Tower of Poseidon was added, to give the waterpark a record breaking offering to guests, both regionally and globally.

Aquaventure was ranked fifth on the list that featured Siam Park in Spain, Beach Park in Brazil, Waterbom Bali in Indonesia and Disney's Typhoon Lagoon Water Park in Florida in first to fourth respectively.
Follow Emirates 24|7 on Google News.