Why partial eclipse will not affect Eid Al Adha falling on September 23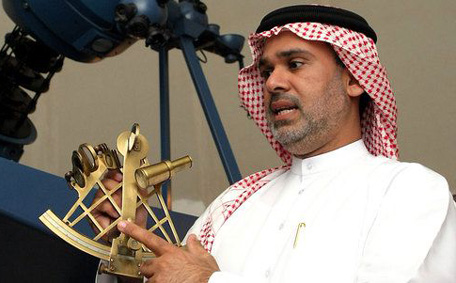 Ibrahim Al Jarwan, Researcher in Astronomy, Meteorology and General Supervisor of the Sharjah Planetarium, has insisted that the crescent for the Islamic month of Dhu'l Hijjah will most likely be visible on Sunday, September 13, at 6.41am UTC (10.41 UAE time), therefore, Monday, September 14, will be the first day of the Islamic month.
He stressed that the moon will appear three minutes after the sunset and will be visible on the horizon at an altitude one degree at sunset in the UAE and of two degrees from the horizon in Saudi Arabia.
According to these facts, Eid Al Adha, which is on the 10th of Dhu'l Hijjah, will be on Wednesday, September, 23 in the Arab World.
The statement of Al Jarwan came in response to a comment made by Dr. Abdul Razak Ibrahim, a resident of South Africa.
Dr. Abdul Razak Ibrahim said that due to a partial eclipse starting at 4.40pm until 9.05pm, it will be difficult to see the new moon of Dhu'l-Hijjah.
Al Jarwan said that he agreed with Dr. Abdul Razak Ibrahim that there could be difficulty in seeing the moon, but disagreed on the "impossibility" of the same, because the basic conditions for the start of the month according to the astronomical calculations would be confirmed.
He said the birth of the crescent will be before the sunset and the moon will be visible even after the sunset.
He emphasised that in this case the impossibility of vision does not exist and therefore, one cannot reject the testimony of any witness for the new moon of Dhu'l-Hijjah, despite the difficulty of vision.
Fatwas by the Islamic Research Academy meeting in 1988 and in Istanbul in 1990s were also issued on the similar lines, he said, adding that Saudi Arabia also adopted the sighting of the moon in similar circumstances because the moon is visible after the sunset, and also it is the country which is running the rituals of Haj.
Al Jarwan claimed that his forecast about the beginning of Dhu'l Qa'da is proved correct as the 11th month of Islamic calendar began on Sunday, August 16, as predicted.

Follow Emirates 24|7 on Google News.