Woman fined... again... and again... for renting villa to singles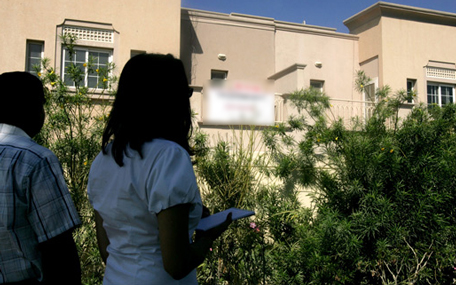 An Emirati woman owner of a villa in Al Twar area continued renting her villa to tenants on a sharing bais, which is illegal, despite being fined Dh150,000 in less than two years.

Speaking to Emirates 24|7, Jaber Al Ali, Head of Building Inspection Section at Dubai Municipality said that this woman did not care about the fine and was willing to pay up because the amount of rent she receives is much higher than the fine.

"She rents her villa for Dh200,000 per annum, and thus, being levied a fine of Dh50,000 is nothing compared to the rent. There are many others like her who rent their houses to others for sharing, thus violating laws," he said.
Jaber Al Ali, Head of Building Inspection Section of Dubai Municipality. (Supplied)
Al Ali added that according to their statistics, almost 80 per cent of the villas in the old residential areas of Dubai are leased to bachelors or sharing families, which is against the law.

"These areas are Al Beda'a, Al Jafeleya, Jumeirah 1, Al Rashidiya, and many other areas. The problem is that the landlords in these areas have moved to other news areas, but still there are other residents who are still living there, and they suffer because of such practices, especially if the house is rented to a group of bachelors who party all night and disturb their neighbours."

He added that they have 40 inspectors in the section, and 16 new inspectors under training, and all of them work in specific zones in the emirate.

"Each inspector has 16 districts under him and they have to inspect these districts every month and submit 10 reports from these districts every day. The amount of work they do is high due to the rapid growth in the population and the number of buildings. However, we are able to cover all these zones and districts fully and are able to meet all our goals."

Cat and mouse chase
A cat and mouse chase is on between Dubai Municipality inspectors and tenants renting space in house-sharing deals, a top Dubai Municipality official has revealed.

The inspectors are issuing fines and disconnecting electricity and water services for violating villa rules.
Speaking to Emirates 24|7, Jaber Al Ali, Head of Building Inspection Section of Dubai Municipality, said: "Whenever we find villas occupied by sharing tenants and thus, violationg the law, the landlord gets a fine of Dh50,000 plus disconnection of water and electricity services till the landlord evicts his tenants from the villa.

"However, when the municipality inspectors go to the villas with the Dubai Electricity and Water Authority (Dewa) officer to disconnect the electricity and water, tenants move from that villa to another one next to it, which is also not allowed," Al Ali says.

"We issue a fine to the other villa, and it takes about one month for Dewa to disconnect the electricity and water from the second villa.

"By the time the inspectors go the second villa to disconnect the utilities, they see the tenants moving to a third villa.

"The landlord who got the first villa vacated now gets the electricity and water connections back, and then when the third villa's Dewa is disconnected, tenants return to the first villa. It goes on like this. This chase never ends," he explains.

He points out that there are many middle-men between the landlord and tenants.

"Basically, these villas belong to the old Emiratis in the old areas. Most of them have moved to new houses and now lease out their old houses. Because of the condition of their old houses, middle-men come in and offer them good rent - approximately Dh150,000 to Dh200,000 - which is above the market rate.

"Thus, they agree to rent their houses to these middle-men, who then divide the villas into different sections and rent it to a large number of tenants."

Al Ali added that this will only end if landlords are made aware of the harm such practices cause to the neighbourhood and people living there.

"So many residents and families living in these areas complain because of the trouble these bachelors make in the neighborhood.

"Most of them are workers, and their companies must find proper accommodation for them. As per the law, most of the times the companies also end up paying fines and are asked to rent proper labour accommodation for workers, and not old villas," Al Ali says.

Follow Emirates 24|7 on Google News.