Fire burns through 20 cars on highway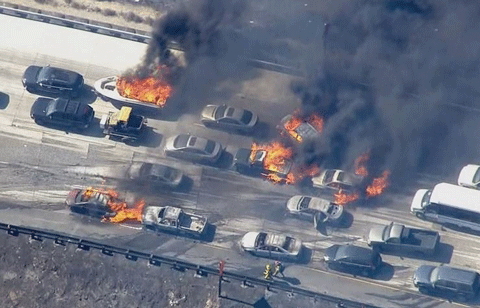 A fast-moving brush fire destroyed 20 cars and closed down the main freeway from Los Angeles to Las Vegas, officials said Friday.
The blaze also burned at least five nearby houses after breaking out near the I-15 freeway northeast of Los Angeles. It damaged another 10 cars.
It was unclear if anyone was hurt in the fire, which apparently leaped across the multiple-lane highway, igniting vehicles.
A small number of cars and at least one large truck were still ablaze, while drivers milled around on the side of the freeway, where their cars were stuck in a jam.
The San Bernadino County Fire Department said the blaze had grown to 3,500 acres (1,400 hectares), and was imminently threatening another 50 homes, in addition to the five already burning.
Wildfires are a fact of life in southern California, but have been exacerbated by tinder dry conditions as the western US state is gripped by a fourth year of record drought.
The I-15 is the main freeway between Los Angeles and Las Vegas in neighboring Nevada, and is extremely busy on weekends as Angelenos head to and from the gambling and party haven.

Follow Emirates 24|7 on Google News.