Mohammed honours innovative teachers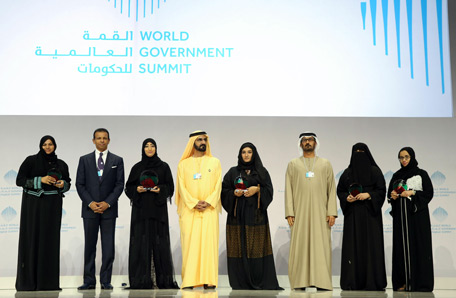 His Highness Sheikh Mohammed bin Rashid Al Maktoum, Vice-President and Prime Minister of the United Arab Emirates and Ruler of Dubai, affirmed that the Emirates Innovative Teacher Award was launched to recognise the teacher's valuable message and vital role in bringing up generations who can build a good society and a developing nation.

''The government places development of education as one of its top priorities,'' Sheikh Mohammed said in a ceremony to honour winners of the Dh1 million Emirates Innovative Teacher Award as part of day one events of the ongoing three-day World Government Summit in Dubai.
The award is given to an exceptional teacher who has made an outstanding contribution to the profession in the UAE.


''The UAE is adopting a development and modernisation policy that primarily focuses on making investment in human being - the key pillar for the progress of both, the community and the state,'' he stressed.

''Teachers are the main actors who build a capable, qualified and successful human being.
"They instill passion for learning, success, and loyalty to serve the nation in the future generations. They equip students with skills and capacities to be future leaders and nation builders."

Ebtisam Al Shemeili, a physics teacher at Al Ro'ya School in Ras Al Khaimah, won the award for her innovative achievements in renewable energy applications.

Four runners-up Noora Saeed Al Shehi, Samah Hamdan, Amnah Abdullah Al Zaabi and Nadia Saeed Al Kaabi were also honoured for their outstanding performance.

The Ministry of Education and Gems Education has launched the award to raise the stature of the teaching profession, so that children can dream of becoming great teachers.
Organisers say they seek to celebrate the best teachers those who inspire their students and the community around them.

In line with the UAE Vision 2021 National Agenda, to ensure that the UAE has a "first-rate education system, the UAE Innovative Teacher Award underlines the importance of the teaching profession, recognising and celebrating great teachers so that today's brightest and best students look at teaching as a profession of choice."
Follow Emirates 24|7 on Google News.