Mohammed opens Africa Business Forum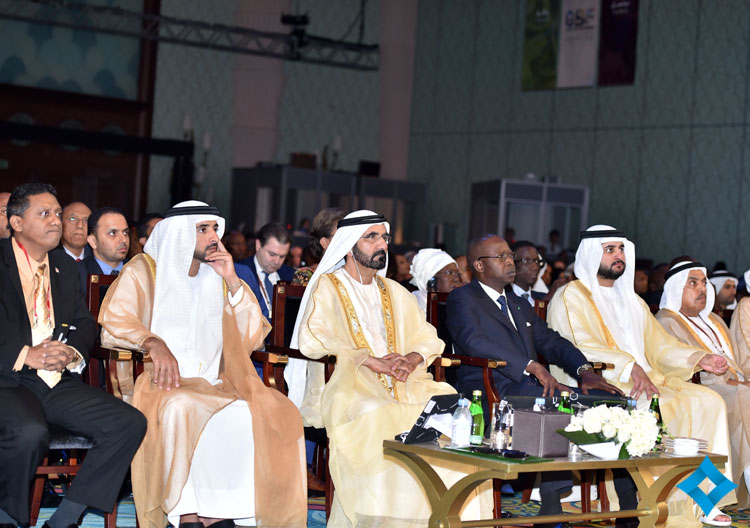 His Highness Sheikh Mohammed bin Rashid Al Maktoum, Vice-President and Prime Minister of the UAE and Ruler of Dubai, on Wednesday attended at the Atlantis, The Palm in Dubai, the opening session of the two-day long second Africa Global Business Forum (AGBF) 2014, organised by Dubai Chamber of Commerce and Industry.
The forum was also attended by Sheikh Hamdan bin Mohammed bin Rashid Al Maktoum, Crown Prince of Dubai, Sheikh Maktoum bin Mohammed bin Rashid Al Maktoum, Deputy Ruler of Dubai, Sheikh Ahmed bin Saeed Al Maktoum, Chairman of Dubai Civil Aviation and Chief Executive of Emirates Group, Dr. Mulatu Teshome, President of the Federal Republic of Ethiopia, John Dramani Mahama, President of the Republic of Ghana, Paul Kagame, President of the Republic of Rwanda, Senegalese Prime Minister Mohamed Boune Abdallah, Vice President of the United Republic of Tanzania Dr. Mohamed Gharib Bilal, and Vice President of the Seychelles Danny Faure.
Sheikh Mohammed also attended a panel entitled: "Leading the Continent towards Change" in which head of states of Ghana, Rwanda and Ethiopia took part. The dialogue touched on the challenges and hope for Africa as well as the investment opportunity available in the continent that is endowed with natural and human resources. It tackled ways to achieve sustainable development given challenges of market fluctuations, climate change and rising populations.
The speakers at the panel agreed that political, economic and social stability is a key to attracting investments to the continent so as to achieve the aspired change, economic prosperity and create job opportunities for African youth.
At the end of the panel discussion, which was moderated by CNN anchor Becky Anderson, Sheikh Mohammed greeted the three head of states for their contributions, the information they shared and the explanations related to the investment opportunities in their countries.
Sheikh Mohammed expressed his happiness for choosing Dubai to host the forum, welcoming the participants and assuring them that Dubai will continue to be a hub that connects Africa with the world, most particularly, Europe and the East.
While receiving African heads of states, he also indicated that such meetings are adequate platforms to exchange knowledge, experiences and information among nations, and generate new investment opportunities and strong economic, cultural and social partnerships.
Sheikh Mohammed welcomed all aspects of cooperation between the UAE and Africa, noting that the UAE is willing to share its successful developmental and knowledge based economic experiment with the African governments and people.
Among others present were Reem bint Ibrahim Al Hashemi, Minister of State Reem, Mohamed Ibrahim Al Shaibani, Director General of Dubai Ruler's Court, Abdul Rahman Saif Al Ghurair, Chairman of the Board of Dubai Chamber of Commerce and Industry, Sultan Ahmed bin Sulayem, Chairman of Ports, Customs & Free Zone Corporation, Khalifa Saeed Suleiman, Director General of Dubai Protocol Department, and number of senior officials.
The objective of AGBF is to encourage international revenue flows into Africa by engaging leading decision-makers on the global investment scene. An exclusive by-invitation-only event, attendees will have access to high-level decision makers including African Heads of State, Ministers, prominent CEOs operating globally, heads of private banks, sovereign wealth funds and private equity firms.
Follow Emirates 24|7 on Google News.